In case you missed it, you can view the highlights of Saturday's 53-mile Wheel Around the Hub cycling race in this 3-minute video.
Share on Facebook
Share on Facebook
Smethport Web — by Nathan Muller
Of 650 registered voters in Smethport, 414 turned out in yesterday's primary. The 64% participation rate for a primary election is high by any standard.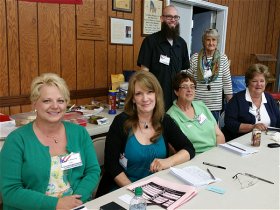 In Borough Council races, Ryan Yingling won on the Republican ballot for the two-year term. Ryan was appointed to the Council by unanimous vote in September, filling a seat left open by a resignation.
Yingling also won on the Republican ticket for the four-year term, along with Brian Gustafson and Robert Thomson.
On the Democratic side, Leo church ran unopposed in his bid for a four-year term.
Share on Facebook
Here is the original, uncut WPSU presentation of "Our Town: Smethport" as it was broadcast live on October 16, 2014.
Share on Facebook
Smethport Web — by Nathan Muller
On Thursday, October 16 at 8 pm WPSU live-streamed the broadcast premiere of "Our Town: Smethport."
This summer, volunteer storytellers from Smethport, Pennsylvania came together for the 79th production in the "Our Town" series. Their stories captured the rich history of this friendly community.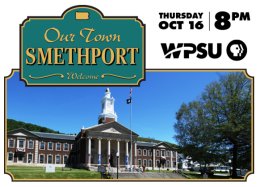 They shared stories about the McKean County Historical Society Old Jail Museum, Compton's Mom & Pop Shop, the Smethport Fire Department, the Mansion District, Hamlin Memorial Library, Smethport Country Club, McKean County Court House, Smethport Area High School, and so much more.
In addition to local residents, people from all over the country with ties to Smethport called in their pledges of support for "Our Town: Smethport." Donors of $75 or more will receive a DVD with bonus features and content not shown during the live broadcast.
During the pledge drive breaks, many familiar localites were seen manning the phones in the background, including Mayor Wayne Foltz, Julie Mader, Bart Barton, Tony Alfieri, Diana Covert, Claudia Caminite, and Judy Church.
A great evening of fun — just one more reason Smethport is a GREAT hometown!
Check out the Twitter feed for commentary during the broadcast. Our favorite comment: "SHUT THE HELL UP EVERYONE, ROSS PORTER IS ON."
See how Smethport has changed in 10 years… Here is the full broadcast of "Our Town: Smethport" done in 2005:
Share on Facebook
Smethport Web - by Nathan Muller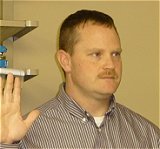 Wayne Foltz was sworn into office by Magisterial District Court Judge Bill Todd at last evening's Borough Council meeting. The Mayor's wife, Lisa, took part in the ceremony by holding the Bible upon which the Mayor took the oath. Foltz is captain in the Smethport Fire Department and a former Smethport Chamber of Commerce president. He is currently employed as district manager at Universal Well Services in Bradford.
Council members Greg Rounsville, Josh Costa, Kent Herzog and Jeff Tanner were sworn into office, having won reelection last year. Leo Church, the newest member of the Council, was also sworn in by Judge Todd.
By unanimous vote, the Council reelected Greg Rounsville as President and Brian Gustafson as Vice President.
Read more
Share on Facebook
Smethport Web — by Nathan Muller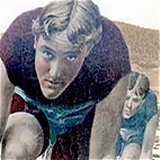 Smethport's historic "Wheel Around the Hub" cycling races are coming to town on Saturday, September 14th. The starting gun fires at 12 noon in front of the McKean County Court House on Main Street.
This year's event will feature a new Junior Mountain Bike Class for cyclists aged 12-13, 14-15, and 16-17, who will participate in a one-lap race. Parents are encouraged to ride along with younger cyclists along the route.
Male and female cyclists in the 53-mile and 7-mile circuits, as well as the new junior class 1-lap race, will follow the traditional route through Smethport's quaint business district, past the McKean County fairgrounds and scenic farmlands, over the Galico Bridge, through rolling hills, past Hamlin Lake, and back onto Main Street past Victorian homes.
Participants in all classes – including the Junior Mountain Bike Class – can register online at: www.bikereg.com.
Following the race, there will be a Pig Roast / Beef Brisket Dinner and Awards Celebration at the Smethport Fire Hall. Smethport's own Hamlin Station Blue Grass Band will provide musical entertainment.
Cyclists and their family and friends are invited to attend. The awards ceremony is open to the public at no charge and a nominal fee is charged for the dinner. There is no charge for hungry race participants.
The event is being organized by the Wheel Race Committee, a fundraising project of the Smethport Volunteer Fire Department.
Share on Facebook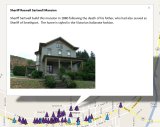 The ANF Visitors Bureau, McKean County's travel and tourism promotion agency, has partnered with the Allegheny Institute at the University of Pittsburgh at Bradford to create a self-guided tour of Smethport, PA for smart phone users.
The first in a series of community-maintained digital maps, users can access information about Smethport and go to locations of interest at specific coordinates. The Trail Maker app can be streamed live or downloaded for areas with poor data coverage. Read more
Share on Facebook
Smethport Web - by Lisa Chapman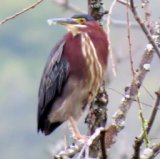 May is a month of surprises for birders of all stripes. The winds bring short term visitors through the area on their way to northern breeding grounds and our local breeders return from thousands of miles away to perpetuate their species.
Saturday, May 11th was the date for the Pennsylvania Migratory Bird Count. On this day birders across the state spent whatever time they had available finding, identifying, and reporting every bird they could in all 67 counties. This is one of many citizen science projects that help scientists monitor the status of birds in the state.
Our local club, the Allegheny Highlands Bird Club, had several members in several counties at work. Part of my day was spent on the Shawmut Trail and at Hamlin Lake, both part of the Potato Creek Trail System. Read more
Share on Facebook
Smethport Web - by Nathan Muller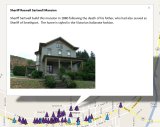 About 40 people attended last night's presentation by UPB students and staff who introduced the newly developed Trail App for Smethport. The meeting was held at Hamlin Memorial Library.
The app overlays trail information onto Google Maps. With an iOS or Android mobile device, users click on a specific point highlighted on the map. These may be trail markers or local points of interest. Clicking on the markers opens a pop-up window that contains more information.
The objective of the project is to build connections between outdoor enthusiasts and local businesses, and includes educational and recreational features that will be useful to visitors, residents, and students. Read more
Share on Facebook