Smethport Web - by Nathan Muller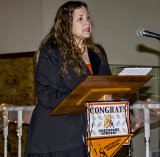 The Smethport Area Chamber of Commerce held its 12th Annual Business Dinner last week at the Court of Angels restaurant. Chamber president Jovanna Porter greeted guest of honor Coach Daniel Zeigler and the Smethport Hubbers Basketball team. Accoustic guitarist Ade Adu provided the evening's music.
During her remarks, Jovanna Porter spoke about community cooperation; specifically, about building an environment of cooperation where multiple groups and organizations can network successfully to leverage the greatest benefits.
"Smethport has a long history of community groups working in tandem with each other," she said. "We have a strong culture of volunteerism, starting with our local public officials."
She cited the Borough Council and Mayor who serve without pay for their services, as well as members of the Smethport Fire Department. "The community team, not unlike the basketball team, only works because the individuals understand the importance of teamwork and cooperation," she said.
"It is my goal for the Chamber is to facilitate cooperation, and to encourage participation between civic groups and local businesses to co-plan complimentary events."
Porter said simple steps can show big gains: "Ideas as simple as arranging a sidewalk sale, or a special drink or desert option on bike race day have the potential to increase visitor traffic to local businesses. Civic groups might plan a craft or skill demonstration or sale as a fund raising opportunity. Leveraging the events that are already in place would improve the economic impact for all concerned and make for a vastly more interesting day for everyone."
Smethport already demonstrates cooperation within various groups, she said. "Everyone gains from this networking. Greatness can be achieved when divergent people come together to work cooperatively."
Coach Daniel Zeigler introduced the members of the Hubbers basketball team and cited the unique contributions each player made toward achieving a record-setting season that will serve as the yardstick for future teams.
The coach shared one of the takeaways from the season that could just as easily apply to community affairs as to team sports: "Average effort produces average results. Exceptional effort produces exceptional results."
The evening included presentations of awards by Jovanna Porter to the following recipients:
C.L. McKeirnan, Inc. – Business of the Year
Anne Potter – Volunteer of the Year
Smethport Historical Society – Community Service Organization of the Year
In addition a commemorative plaque was presented to Hamlin Bank in recognition of its 150th anniversary. The wood carved plaque was created by Thomas Weiser of Total Engraving in Smethport.
Share on Facebook
Smethport Web - by Nathan Muller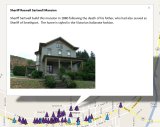 About 40 people attended last night's presentation by UPB students and staff who introduced the newly developed Trail App for Smethport. The meeting was held at Hamlin Memorial Library.
The app overlays trail information onto Google Maps. With an iOS or Android mobile device, users click on a specific point highlighted on the map. These may be trail markers or local points of interest. Clicking on the markers opens a pop-up window that contains more information.
The objective of the project is to build connections between outdoor enthusiasts and local businesses, and includes educational and recreational features that will be useful to visitors, residents, and students. Read more
Share on Facebook
Smethport Web - by Nathan Muller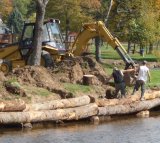 Smethport Borough and the McKean County Conservation District are working on a joint project to stabilize the stream bank along Marvin Creek on the west of Hamlin Lake, near the Little League baseball field.
Borough employees have removed some of the retaining wall's concrete blocks and Conservation District personnel are installing wood poles in that space. This will be followed by rock cover — also known as "riprap" — to help prevent more of the bank from washing away. These steps also help preserve the area's wildlife habitat.
The primary goal of the Conservation District is the development, improvement and conservation of the County's Soil, water and related resources as well as educating the community in various conservation and environmental practices and methods. To learn more, visit their website.
Share on Facebook
Smethport Web — by Les Jordan Jr.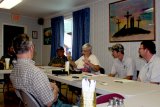 The Seneca Highlands Snowmobile Association met with representatives from county, state and federal agencies at the Smethport Senior Center on Friday afternoon, September 7th, to discuss trail expansion, including two bridges planned for the area.
The association was represented by Corky Hull of Smethport who has been active in trail development for the snowmobile group since it was formed.
Adam Mattis, Northwest Regional Advisor of DCNR, played a key role in advising the association concerning several issues about trail expansion and the processes required for preparing grant applications. Other agency representatives offering advice included Susquehannock State Forest District Forester, Chris Nicholas; Assistant District Forester, Eric Allenbaugh; and Recreation Forester, Cory Gulvas. Also present were Liz Krug, President of the Pennsylvania State Snowmobile Association, and Potter County PSSA Director, Amy Jacoby.
Ross Porter represented the Borough of Smethport. The snowmobile club is a standing member of the Potato Creek Trail Association, which is under Smethport Borough. Read more
Share on Facebook
Smethport Web — by Nathan Muller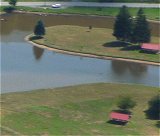 If you've been over to Hamlin Lake recently, you may have noticed the water level isn't what it used to be. In fact, the water level has gone down by three feet. [Click image for aerial photo.]
The missing water isn't due to summer drought or clandestine siphoning by parties unknown; the level was taken down to allow for repair work on the dam by Duffy, Inc. of East Smethport. The project is expected to cost about $190,000.
As reported by Borough Council president Greg Rounsville, the project is on schedule to be completed by the October deadline set by the state Department of Environmental Protection.
Share on Facebook
Smethport Web — by Nathan Muller
With little advanced warning, a mid-afternoon storm barreled into Smethport, Pennsylvania on Thursday, July 26, taking out power, disrupting phone service, uprooting trees, damaging homes and clogging streets with debris.
Borough police, fire department, utility and road crews were quick to respond in getting Smethport cleaned up. No storm-related injuries were reported.
The storm has been officially declared a "microburst" with wind gusts from 70 to 100 mph causing widespread property damage in Smethport and elsewhere throughout North Central Pennsylvania.
Share on Facebook
Smethport Web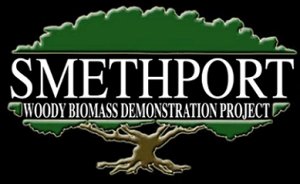 When the Smethport Woody Biomass Demonstration Project was started in June, 2008 the price of natural gas was almost $14.00 per thousand cubic feet. It's now hovering around $3. The final report places the viability of the Smethport Biomass project when natural gas prices go above $6 per thousand again. [Also available for download as a PDF.]
In 2008, however, natural gas heating prices were skyrocketing and wrecking Smethport homeowners' household budgets. In addition, Smethport was facing a $20 million bill to replace its aging community water pipe infrastructure.
Since the first electric came to Smethport in the early 1920s the Borough has owned and operated its own electric utility system. Smethport is the only community in the 12 county Pennsylvania Wilds region to do so. So it was logical for Smethport to explore solutions that included electricity. Read more
Share on Facebook
Smethport Web
More than 160 business and community leaders from across the Pennsylvania Wilds region gathered Wednesday evening at the Red Fern in St. Marys for an update on the PA Wilds Initiative and to honor 14 local organizations and individuals for outstanding work in sustainable tourism development.

The event included comments by Rick Allan, Secretary of the PA Department of Conservation and Natural Resources; and Carolyn Newhouse, Dep. Sec. for Innovation & Investment at the Department of Community & Economic Development. The effort to grow the region's nature and heritage tourism industry has spanned three governors; DCNR and DCED are the two main state partners involved in the effort.
The evening ended with 14 individuals, businesses and organizations being named 2012 Champions of the Pennsylvania Wilds. The winners were given plaques, citations by their state senators and certificates of recognition by Congressman Glenn Thompson, a longtime supporter of the PA Wilds. Read more
Share on Facebook
Smethport Web — by Jovanna Porter
Residents of Smethport are witnessing the finishing touches of the third phase of Smethport's community reforestation project. The project is a joint venture between the Borough, the Smethport Shade Tree Commission, and McKean County Redevelopment Authority Community Development Block Grant funds.
Kane Lawn and Garden, as the successful bidder, is currently planting the final 86 trees throughout Smethport Borough.
Borough residents applied for trees through the Borough last year. The Shade Tree Commission made home visits to inspect possible tree planting sites and offered suggestions for appropriate tree species for the various locations.
It is very important that the newly planted trees are kept hydrated, and home-owners are asked to make sure their tree is watered frequently. The first year after transplant is critical for young trees. Water is necessary to ensure their survival.
Call 814-598-7403 with any questions.
Share on Facebook
Smethport Web
The Borough has several Community Grant Projects and potential projects in various stages of implementation or planning. Here is a status update…
DCNR PA Wilds Design Assistance Grant: This matching funds grant is for the design and implementation of the east-west gateway entries into the Borough. C.J. Wallace Engineering of Bradford is doing the design work, with T & B Planning of Murrysville, PA performing project oversight. There is a matching grant with the Borough and Lumber Heritage Corporation. Bridge lighting, gateway signage and landscaping will be addressed. Both bridge gateways intersect with our network of trails. Read more
Share on Facebook