Parts of a research paper mla format
http://madelinegavi.com/hrm-300-final-examination-answers Hrm 300 final examination answers
http://os-x-download.com/Best-price-FileMaker-Bento-3-mac-oem Best price FileMaker Bento 3 mac oem
http://www.elfogondetrifon.com/Best-price-Adobe-InCopy-CS6-32-bit-software Best price Adobe InCopy CS6 32 bit software
http://aobongdahaiphong.com/research-paper-outline-for-middle-school-template Research paper outline for middle school template
Ferlin Patrick, Ex. Director of Growth Resources at Pennsylvania Free Enterprise Week and 2015 local student graduates.
Jimmy Duffy will be recognized for his awesome wrestling accomplishments and winning the silver medal in the state championships in Hershey, Pa. Remarks by Coach Shunk.
Music by the Barr Family (Drew, Aaron, and Emma).
Please RSVP by emailing Megan Simms at megan@colonial.fm with number of attendees no later than May 6th for food/seating purposes. Make checks out to Smethport Area Chamber of Commerce and send to P.O.Box 84, Smethport, PA 16749.
Share on Facebook
Smethport Web — by Cheryl Putnam
Borough residents now have a choice of four trash collectors. Please call your choice of collector to arrange pickup:
Casella Waste Systems
225 Homer Street
Olean, NY 14760
800-292-0297
Four Bags a Week Monthly Rate: $26.00 includes 96 gallon cart; $20.00 senior/economy rate or
Individual Sticker: $2.50 each sold in packs of 10 plus postage
Smethport Disposal
30 Gilbert Lane
Bradford, PA 16701
598-1711
598-0975
Four Bags a Week Monthly Rate: $13.00 or $12.75 for seniors; or Individual Sticker: $1.60
Haberberger Disposal
P. O. Box 91
Mt. Jewett, PA 16740
558-4304
Four Bags a Week Monthly Rate: $19.00 or $17.00 for seniors; no Individual Sticker Option
Burdick Disposal
P. O. Box 452
Smethport, PA 16749
887-9217
Four Bags a Week Monthly Rate: $17.00 or $16.50 for seniors; or Individual Sticker: $2.50
Share on Facebook
Smethport is conducting a Borough-wide survey to determine its eligibility for a Community Development Block Grant it wants to applying for.
The McKean County Redevelopment Authority will need to get back 300 completed responses from Borough residents to complete the survey. The surveys will be sent out randomly. Not every person or household will receive a survey.
The grant, if the Borough qualifies, will be used for updates to fire/police equipment or for other improvements within the Borough.
The Borough is asking for your cooperation with this survey.
Share on Facebook
Smethport Web — by Nathan Muller
A lot has changed on Main Street, since the June 2014 groundbreaking of the new building for McKean County Housing and Redevelopment Authorities.
The three-story, 15,660-square-foot structure adheres to the recommendations described in the Pennsylvania Wilds Design Guide, which encourages maintaining the historic architecture in the region. The result: the building looks like it has always been in Smethport.
Since construction started on the building, there has been a flurry of activity on Main Street. Several storefront facades have undergone restoration or improvement. A dangerous building was demolished. A new road surface was put down and finished right before the Wheel Around the Hub races. Sidewalks have been repaired and ADA-compliant ramps installed at street corners.
McKean County Housing and Redevelopment Authorities held a well-attended open house in September. Staff provided tours of the building and distributed literature about the services the organizations provide, which include promoting community development projects and administering Community Development Block Grants (CDBG) that assist communities with infrastructure and rehabilitation projects.
The building also has offices for The Guidance Center, based in Bradford, which is committed to the development and provision of comprehensive mental health.
The structure represents the largest investment on Main Street since construction of the Grand Central Hotel, which was built in 1881 on the same site and destroyed by fire in 1899.
Share on Facebook
In case you missed it, you can view the highlights of Saturday's 53-mile Wheel Around the Hub cycling race in this 3-minute video.
Share on Facebook
Share on Facebook
Smethport Web — by Nathan Muller
Of 650 registered voters in Smethport, 414 turned out in yesterday's primary. The 64% participation rate for a primary election is high by any standard.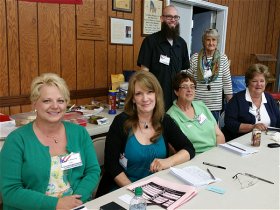 In Borough Council races, Ryan Yingling won on the Republican ballot for the two-year term. Ryan was appointed to the Council by unanimous vote in September, filling a seat left open by a resignation.
Yingling also won on the Republican ticket for the four-year term, along with Brian Gustafson and Robert Thomson.
On the Democratic side, Leo church ran unopposed in his bid for a four-year term.
Share on Facebook
Here is the original, uncut WPSU presentation of "Our Town: Smethport" as it was broadcast live on October 16, 2014.
Share on Facebook
Smethport Web — by Nathan Muller
On Thursday, October 16 at 8 pm WPSU live-streamed the broadcast premiere of "Our Town: Smethport."
This summer, volunteer storytellers from Smethport, Pennsylvania came together for the 79th production in the "Our Town" series. Their stories captured the rich history of this friendly community.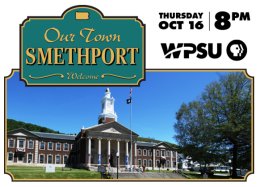 They shared stories about the McKean County Historical Society Old Jail Museum, Compton's Mom & Pop Shop, the Smethport Fire Department, the Mansion District, Hamlin Memorial Library, Smethport Country Club, McKean County Court House, Smethport Area High School, and so much more.
In addition to local residents, people from all over the country with ties to Smethport called in their pledges of support for "Our Town: Smethport." Donors of $75 or more will receive a DVD with bonus features and content not shown during the live broadcast.
During the pledge drive breaks, many familiar localites were seen manning the phones in the background, including Mayor Wayne Foltz, Julie Mader, Bart Barton, Tony Alfieri, Diana Covert, Claudia Caminite, and Judy Church.
A great evening of fun — just one more reason Smethport is a GREAT hometown!
Check out the Twitter feed for commentary during the broadcast. Our favorite comment: "SHUT THE HELL UP EVERYONE, ROSS PORTER IS ON."
See how Smethport has changed in 10 years… Here is the full broadcast of "Our Town: Smethport" done in 2005:
Share on Facebook
Smethport Web - by Nathan Muller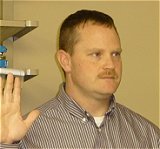 Wayne Foltz was sworn into office by Magisterial District Court Judge Bill Todd at last evening's Borough Council meeting. The Mayor's wife, Lisa, took part in the ceremony by holding the Bible upon which the Mayor took the oath. Foltz is captain in the Smethport Fire Department and a former Smethport Chamber of Commerce president. He is currently employed as district manager at Universal Well Services in Bradford.
Council members Greg Rounsville, Josh Costa, Kent Herzog and Jeff Tanner were sworn into office, having won reelection last year. Leo Church, the newest member of the Council, was also sworn in by Judge Todd.
By unanimous vote, the Council reelected Greg Rounsville as President and Brian Gustafson as Vice President.
Read more
Share on Facebook