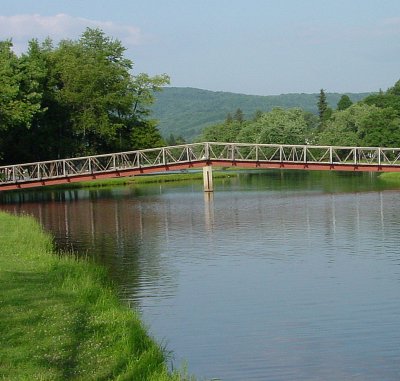 Smethport Web
Rep. Martin Causer (R-Turtlepoint) has announced that Smethport Borough has been awarded a $250,000 grant for improvements to Hamlin Lake Park.
"Hamlin Lake offers so many recreational options to the residents of Smethport and surrounding areas," Causer said. "The improvements made possible by this grant will create even more opportunities for people to enjoy the park. It is a great investment in this community."
The project involves replacing an existing pedestrian bridge in the park with a new structure that complies with the Americans with Disabilities Act (ADA), as well as installing ADA-compliant walking paths to access the bridge, an ADA compliant-parking lot and a connected ADA-compliant kayak launch.
The plan reflects recommendations made in the Hamlin Lake Park Master Plan developed with input of borough residents. According to the grant application, the goal is to improve the functionality of the park and make it more enjoyable and inclusive for the entire community.
The estimated total cost of the project is just under $295,000. The borough will provide the required 15% match of approximately $44,000.
The grant was awarded through the Department of Community and Economic Development's Greenway, Trails and Recreation Program administered by the Commonwealth Financing Authority.