Smethport Web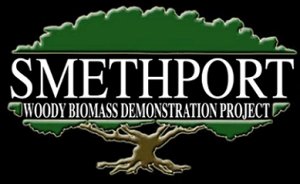 When the Smethport Woody Biomass Demonstration Project was started in June, 2008 the price of natural gas was almost $14.00 per thousand cubic feet. It's now hovering around $3. The final report places the viability of the Smethport Biomass project when natural gas prices go above $6 per thousand again. [Also available for download as a PDF.]
In 2008, however, natural gas heating prices were skyrocketing and wrecking Smethport homeowners' household budgets. In addition, Smethport was facing a $20 million bill to replace its aging community water pipe infrastructure.
Since the first electric came to Smethport in the early 1920s the Borough has owned and operated its own electric utility system. Smethport is the only community in the 12 county Pennsylvania Wilds region to do so. So it was logical for Smethport to explore solutions that included electricity.
The project was modeled after a similar installation in Gussing, Austria and various communities in Scandinavia that carefully harvested wood to generate electricity and provide inexpensive community heat as a byproduct and, in the process, save Smethport taxpayers much of the expense of replacing its problem water pipe system by installing new waterlines at the same time.
In addition, the project's plan was to invigorate the local timber industry and generate electricity and low cost heat for the community. According to Mayor Ross Porter "Biomass is local, so you keep your energy dollars local. It is localization rather than globalization… Pump up Smethport's economy by recycling our local energy dollars back into our local economy."
Fuel for the project was to come from the undesirable, low value trees to enhance the quality of the trees that remain. Penn State Extension Forester Dr. Tim Pierson worked with a group of foresters and local loggers to develop criteria for sustainable harvest. According to Pierson the goal was "…to demonstrate how to harvest woody biomass sustainably to benefit the ecosystem and the forest industry." Pierson brought a lot of experience and expertise to the table, and was instrumental in the development of Pennsylvania DCNR's Sustainable Timber Harvesting guidelines.
But with the unprecedented decline in natural gas prices the entire project is on hold – at least for now.