Smethport Web — by Nathan Muller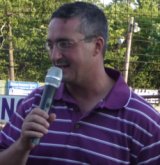 The team of Jeff and Christy Andrulonis of Smethport didn't know what to expect when they recently bought a parcel of land in the hills overlooking Bradford.
Jeff needed the land to build a new tower for his Colonial Radio Group to improve signal reception in the region. The parcel also included a dirt track, but the owner would not break up the property in the "all or nothing" deal.
With a bit of trepidation, media moguls Jeff and Christy suddenly became owners of the Bradford Speedway, and in a dizzying leap of faith decided to make it work. After weeks of cleanup, repairs and painting, the refurbished speedway opened its racing season last night.
Features of the speedway now include a fan entrance fence, new signage, reinforcement of the grandstands and backstretch fence, and purple-and-white color scheme. There is a covered VIP area that can be rented for parties where guests can enjoy catered food and beverages.
The Andrulonises didn't have to wait long to find out how their new venture would fare. Parking areas filled up rapidly and vehicles claimed every available space along the road. By the start of the first race, about 1500 dirt track fans had streamed in to fill the stands, with more straggling in throughout the evening.
In addition to exciting races, the evening featured live music performed by local country singer Kaitlyn Hallock, a roving clown to amuse the kids with balloon creations, and a bevy of "Speedway Babes" who greeted guests in the VIP area.
The fully stocked concession stand did a brisk business all night. Although no alcoholic beverages are served at the track, fans are allowed to bring their own beer all season.
By any measure, opening day at Bradford Speedway was a huge success. Over 70 race cars and their crews were attracted to the event.
"I thought the new venture would do okay, but I really wasn't expecting what happened last night," Jeff said. "We are committed to doing our part to continuing the story of the Bradford Speedway. We want to see this facility alive and thriving for another 54 years."
The season closes on Friday, September 7 with a championship race and the presentation of a grand trophy sponsored by Smethport Web Services. There will be a super late model show on Saturday, September 8, when track speeds are turned up a notch. The "untamed action track" is capable of supporting speeds of 120 mph.
For more about the Bradford Speedway and the rest of the racing season, go to Facebook at www.facebook.com/bradfordspeedway