Smethport Web – by Nathan Muller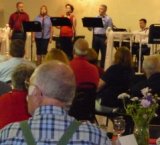 The dinner theater performance of "Front Porch Melodies" drew 165 people to the Court of Angels Restaurant last evening, making it one of the year's most successful events sponsored by the McKean County Historical Society.
The event featured American folk songs performed by Ardyth Van Scoy and The Chordiac Arrest musical group, who also provided the history of how each folk song developed over time into the popular renditions we recognize today.
This Quintet of singers and musicians comes from the Olean, New York area and performs a wide variety of music from pop to Broadway and Gospel to Oldies.
Ardyth Van Scoy of Limestone, New York, performed solo during last year's Civil War Dinner Theater as Maria Isabella "Belle" Boyd, a confederate spy who operated in the Shenandoah Valley. That performance drew about 200 attendees.
Attendees to last evening's dinner theater were invited to show up in period garb. Mindy McFetridge and daughter Josephine of Titusville received prizes for being the best dressed.
The entire event was managed by Barbara Bowman.