Smethport Web — by Nathan Muller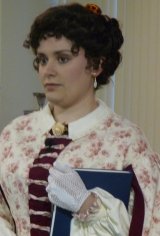 Nearly 200 people attended the Civil War Dinner Theater held Thursday at the Court of Angels restaurant in Smethport. The event was organized by the McKean County Historical Society and featured Ardyth Van Scoy as Maria Isabella "Belle" Boyd, a confederate spy who operated in the Shenandoah Valley.
Van Scoy of Limestone, New York told the fascinating story of Belle Boyd through diary readings and period songs with music provided by flutist Diane Smith of Port Allegany. Many attendees wore period clothing, which added elegance to the special evening.
Boyd was very successful as a spy, relaying information on Union troop strengths and movements to Confederate commanders in the field. Confederate general Thomas J. "Stonewall" Jackson credited Boyd with helping him win victories in the Shenandoah Valley Campaign of 1862.
Like other female spies of the time, Boyd exploited a soldier's sense of chivalry and the Victorian male's natural deference to "ladies". When it came to war, politics and intrigue, soldiers underestimated the intellect and cleverness of women. Eager to impress, they explained everything in great detail, not suspecting Boyd was actually gathering intelligence for the Confederacy.
Boyd was imprisoned multiple times as a suspected spy, but always managed to get released. In one case, the superintendent at the Old Capitol Prison in Washington fell in love with her. In another case, she was released as part of a prisoner exchange. In other cases, the evidence was too flimsy or she received the benefit of doubt because she was a woman. Her skills at feigning ignorance and compelling men in blue to give up their secrets is now legendary.
Even while imprisoned, Boyd used conversations with her guards to accumulate detailed information on troop movements, sending the intelligence in letters to Confederate commanders. When caught with one of these letters in her hand, she acted confused. Preoccupied with other business and distracted by interruptions, Union authorities let the matter drop.
After being captured by a pair of Union soldiers, Boyd sweet talked them into escorting her back to Confederate lines, then had them arrested.
Despite her notoriety during the Civil War, Boyd never spent much time in jail for her role as a confederate spy. Neither did other female spies working for the Confederacy, who were also well known to Union officials.
Laura Ratcliffe, for example, worked for Confederate raider John Mosby in Northern Virginia. She was widely known as a spy, yet was never prosecuted during the war or during the Reconstruction Era. She died in 1923 at age 87.
While touring the country, Boyd died of a heart attack on June 11, 1900, and was buried in Wisconsin. The grocery store of her father is now the Belle Boyd House and Museum run by the Berkeley County Historical Society in Martinsburg, West Virginia.