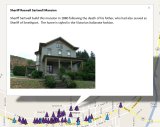 The ANF Visitors Bureau, McKean County's travel and tourism promotion agency, has partnered with the Allegheny Institute at the University of Pittsburgh at Bradford to create a self-guided tour of Smethport, PA for smart phone users.
The first in a series of community-maintained digital maps, users can access information about Smethport and go to locations of interest at specific coordinates. The Trail Maker app can be streamed live or downloaded for areas with poor data coverage.
The Trail Maker app will become available for Apple users soon, but Android users can download the Trail Maker app right now at:
https://play.google.com/store/apps/details?id=pitt.upb.edu.trails.project
Once the app is installed, users can view trail coordinates along the digital trails, such as the location of plant species, waterways, places of cultural or historical significance, and local businesses.
"More and more visitors are using apps to access travel and tourism information", noted Linda Devlin, Executive Director of the ANF Visitors Bureau. "As our region is known as Trail Central because of the high quality and miles of diverse multi-use trails available to the public, we are excited to be able to offer this new method of delivering accurate, fast information into the hands of our visitors via smart phone technology."