Smethport Web – by Nathan Muller
The 5th annual National Wooly Willy Wonderdaze this year consisted of a grand fireworks display on Friday, June 21st in Hamlin Lake Park.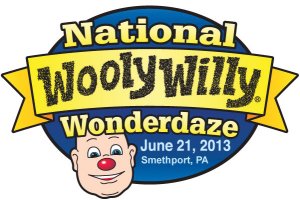 The fireworks were arranged by the Smethport Area Chamber of Commerce and made possible with donations from:
Patch Products
Costa's Supermarket
Jim Herzog
Northwest Savings Bank
Linda's Mane Attraction Salon & Tanning
Smethport Web Services
The Corner Pizza Company
Mansion District Inn Bed & Breakfast and Self-Catered Executive Suites
There was music at two Main Street locations on Friday and Saturday: "Saloon Days" at American Legion Bucktail Post #138 and at the Corner Bar.
Miss the fireworks? That's okay. Just turn up the volume on your computer, shut off the lights, and watch the grand finale right here!
Did you miss Jim Herzog, inventor of the Wooly Willy magnetic toy that is still produced in Smethport? Not a problem — he was seen walking about town durng Wooly Willy Wonderdaze. See, here he is…