Smethport Web — by Wayne Foltz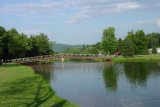 The 2012 National Wooly Willy Wonderdaze festival in Smethport, Pennsylvania will include a Fishing Derby at Hamlin Lake Park on June 16th.
The First Place winner will receive a $25 cash prize, plus fishing supplies. Those finishing in 2nd and 3rd place will receive fishing supplies.
Registration will be from 10:30 am to 11:30 am at the Washington St. entrance by the foot bridge going over the lake. Fishing hours for the event will be from 11:00 am to 1:00 pm.
Here are all the rules for the Fishing Derby…

Trout only – Legal size
Largest fish will win the Grand prize for each age grouping. How the largest is determined. Example; 10.25 inches X 1.2 lbs. = a score of 12.3
Participants must be registered for prize eligibility before they fish.
Participants will follow all Local, State, and/or Federal Laws or the individual will be disqualified and law enforcement contacted.
Fish will be live released unless the angler wishes to keep the fish for consumption and follows all applicable laws.
No Boats, Canoes, Kayaks, etc. to participate in the event – Bank fishing only
Children must be accompanied by an adult
0 to 15 years for youth prize group, 16 years and up for the adult prize group
Adults can cast for young children but the rest of the fishing must be done by the child for prize eligibility
Boundaries will be marked out for the designated fishing areas, only fish caught within the marked areas will count.
Participants will be disqualified if the fish presented to the judges are from a stream or undesignated area, or are not "fresh" looking
Judge(s) will weigh and measure all fish.
Additional rules and regulations may apply for the day of the event
The day will be filled with fun events at the Lake and in town. See you there!