Smethport Web — by Les Jordan, Jr.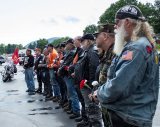 Stormy weather may have dampened turnout, but the weather did not dampen the spirit of the several participants in attendance at this year's Vietnam Veterans Honor Ride of Pride.
After a long motorcycle ride through northwestern Pennsylvania, participants laid red and white carnations at a memorial set up under the canopy of Costa's old supermarket across Water Street from the VFW.
Jack Rosenswie of the Bucktail Post and Leonard Anderson of the VFW gave a brief speech. Later Deb Tuffs played taps after the firing squad was finished with a three-shot volley.
The original location of the ceremony was on the island at Hamlin Lake Park, but was moved to the former Costa's Supermarket because of the inclement weather.
Participants included Vietnam veterans, many of whom are members of the American Legion Riders, and friends of veterans.
The event is sponsored yearly by the Bucktail Post #138 Sons of the America Legion. The Honor Ride was started after the Vietnam Memorial Moving Wall display was held in Smethport in June of 2006 in order to continue to give respect and honor to all Vietnam veterans.
A beef dinner was held at the Smethport VFW following the ceremony. All Vietnam veterans received their dinners free.