Smethport Web — by Les Jordan, Jr.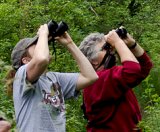 Members of the Allegheny Highlands Bird Club conducted a field study of bird species along the Shawmut Trail on Saturday, June 9.
The trip mapped out a list of bird species for the Potato Creek Trail Association of which the bird group is a member.
The club was organized in August of 2011 "to inspire the appreciation, enjoyment, and conservation of birds and their habitats through research, education, compilation of records, and outreach." The club participates "in bird counts, habitat restoration or development, and of course, birding!"
The field trip Saturday along the Shawmut Trail was headed by the Groshek family. The field trip was characterized by club member, Lisa Chapman as a "scientific endeavor."
According to a spokesperson for the group, "36 species were observed including American Robin, Red-eyed Vireo and Baltimore Oriole on nest. You can see an ongoing bird list for the PCTA soon at the AHBC website under projects," noted a spokesperson for the group.