Smethport Web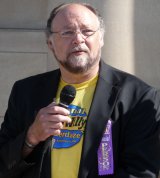 The 4th annual National Wooly Willy Wonderdaze officially opened in Smethport, Pennsylvania today with a ceremony in front of the McKean County Courthouse. On behalf of the Borough, Mayor Ross Porter issued the following proclamation:
It is with great honor and pleasure to officially declare "National Wooly Willy Wonderdaze" in Smethport, Pennsylvania this day June 16, 2012 and urge all citizens and Wooly Willy friends to celebrate the event throughout Smethport, McKean County and around the globe.
And, Whereas, Wooly Willy, our Smethport hero, has his very own hometown festival, I salute Mr. Wooly Willy.
And, Whereas, our Wooly Willy is different. Our Wooly Willy is one-of-a-kind. None of his close comrades and friends have their very own hometown festivals:
There is no Slinky festival;
There is no Mr. Potato Head festival;
There is also no Etch-a-Sketch festival.
But there is a national celebration of Wooly Willy.
And, Whereas, in 1955 the famous Wooly Willy magnetic toy that would become the #1 selling toy in the U.S., and would become one of the great all-time toys,
So now, therefore, be it resolved, that the Borough of Smethport officially proclaims: "National Wooly Willy Magnetic Toy Day" June 16, 2012.
and further
Commend Mr. James Herzog, Wooly Willy's creative inventor, for sending Smethport's name and products around the world, and
Urge all citizens and friends of Wooly Willy to promote him and his long-running fame.
Ross Porter
Mayor, Borough of Smethport, PA
Dated this 16th day of June, 2012
Jeff Andrulonis, Chairman of the Wooly Willy Wonderdaze festival, noted that this is the first year that rain is not in the weather forecast for the event, which is being held on the island of Hamlin Lake Park. Throughout the day there will be a car show, rides for the kids, contests and a fishing derby, plus other amusements. A parade down Main Street starts at 3:30 pm. A street dance will follow at around 6:00 pm to midnight. Fireworks start at around 9:00 pm.