Smethport Web — by Nathan Muller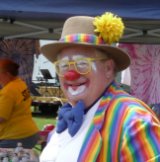 The 4th annual National Wooly Willy Wonderdaze concluded last night in Smethport with a grand fireworks display and a street dance on Main Street that went on until midnight.
For the first time in the event's short history, the weather cooperated with uninterrupted sun and very comfortable temperatures in the mid-70s. This brought out more vendors to Hamlin Lake Park and more vehicles to the car show, which this year included trucks and motorcycles.
Among the sights at Hamlin Lake Park was a vintage 1943 Boeing Stearman biplane that circled Smethport during the festivities. Pilot Bruce Klein restored the biplane and now gives open cockpit rides that take off from Bradford Regional Airport. Smethport resident Kristin Andrulonis was treated to a flight by her parents Christy and Jeff, who organize the annual Wonderdaze event.
Others who worked tirelessly to make this year's Wooly Willy Wonderdaze a success included Smethport Chamber president Wayne Foltz, Jovanna Porter, Francie Ambuske, and Brooke Wolosewicz, plus many of the staff at Colonial Radio Group. Special thanks to the Smethport Police and Fire Departments for their assistance with traffic control and safety.