Smethport Web — by Nathan Muller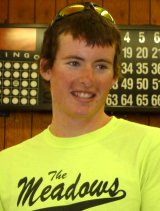 Dry roads, a slight breeze and mid-60s temperatures combined to provide ideal conditions for the 94 cyclists who participated in Smethport's Wheel Around the Hub races Saturday.
Although no records were broken this year, spectators were treated to an exciting finish as a cluster of five cyclists in the 53-mile men's class broke from the pack in the last half mile of the race.
Coming down Main Street toward the finish line, three cyclists emerged in furious wheel-to-wheel battle toward a blinding finish. Benjamin Fogle from Duncansville, PA; Scott Lytle from Lockport, NY; and Bruce Krip from Oakville, Ontario stayed tightly clustered until the very last moments of the race.
Although the three cyclists seemed to have crossed the finish line at the same time, the folks at YellowJacket Racing recorded everyone's time with precision equipment. They even posted the results just minutes after the race.
Fogle managed to pull ahead to take first place, beating Lytle by only 148 milliseconds. Krip took third place, coming in just 52 milliseconds after Lytle.
Fogle ended up the Men's Division Gold Watch winner with a time of 2:08:05.145. Jillian Behm of Erie, PA was the Women's Division Gold Watch winner with a time of2:25:24.087.
Overall winners of the two 15-Mile circuit races were: (Men's Division) Nathan Brady of Hide, PA with a time of 0:41:38.905 and (Women's Division) Toni Flament of Emporium PA with an impressive 0:41:39.878.
"The Yellow Jacket Racing Timing Team of Matthew and Sasha brought a new level of sophistication to our race," said Ross Porter, one of the race organizers. "Their equipment was also excellent."
Complete results are available for both races: 53-mile race and 15-mile race.
Following the event, spectators and participants met at the Smethport Fire Hall for a Pig Roast / Beef Brisket awards dinner, featuring Straub beer and music by the MoJo Hand Band. Special guest, U.S. Rep. Glenn Thompson (R-PA), joined the festivities.
A race-themed painting, In Motion, donated by Smethport artist Julie Mader, was auctioned, which added $150 to race proceeds that will benefit the fire department. The winning bidder was cyclist Greg Cushing from Toronto, Canada.
More information about the race can be found on the event's Facebook page.