Smethport Web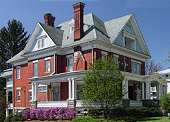 The Smethport Garden Club and PIECEmakers Quilt Guild will present the Smethport Tour of Homes on Saturday, September 22, 2012 from 12:00 Noon to 4:00 pm.
Don't miss this opportunity to tour the interiors of Victorian homes along Main Street in Smethport's Mansion District. See renovations in progress and talk with owners about their experiences living in and maintaining these historic landmarks built by 19th Century oil and timber barons, entrepreneurs, and financiers.
Tickets are $10 and may be purchased on the day of the event at St. Luke's Episcopal Church at 602 W. Main Street, Smethport, PA. Each ticket includes the address of each home and a map to their locations. Ticket holders may visit the seven participating homes at their own pace.
The church will host an exhibit of quilts, some for sale. You can even bring in your own quilts for a free expert appraisal! Refreshments will be served and restrooms are available.
In some of the homes, artisans will have exhibits and conduct demonstrations of their craft. Guides will be on hand to assist visitors through the homes, tell legendary stories about the original owners, and answer questions about local history.
For example, an interesting fact about the home of Judge Joseph Bouton is that it cost $6,000 to build in 1905. At the time, this was considered an extravagant amount by local standards and worthy of newspaper coverage of the grand opening. Today, the doorknob assemblies alone are worth the original cost of building the home.
Don't miss Smethport's new antique shop at 408 W. Main Street in the historic McCoy Drugstore building renovated by Diana and Doug Covert, where Diana also operates Lightwaves Laser Engraving. While on the tour, visitors can stop by the Baptist Church at 820 E. Water Street Extension to check the status of improvements.
The Tour of Homes is held every two years and is a great way to spend a leisurely Saturday afternoon with your friends and out of town guests.