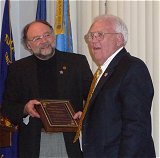 At the 8th Annual Dinner of the Smethport Area Chamber of Commerce held last night at the American Legion's Bucktail Post, outgoing Chamber President Wayne Pearson was honored for his many years of service to the community. An award plaque was presented to Wayne by Ross Porter, who introduced the Chamber's pick for Volunteer of the Year with these inspiring words:
"A major ingredient in Smethport's renaissance or any vibrant community is the presence of committed civic volunteers.
This year's Volunteer of the Year recipient has been a uniquely dedicated, selfless volunteer who has been deeply involved in Smethport projects for many years.
His footprints will have forever left a trail in Smethport's historic journey of progress.
Following a remarkable career with Dupont Chemical Corporation, he and his wife Mary Lee moved to Smethport, renovated their wonderful family homestead and he quickly made Smethport his adopted home.
Many people would have retreated to retiring bliss in the confines of the rural family estate.
But instead of melting into the quiet Keating Township wilds, he burst upon the Smethport civic scene with furor, dedication and astounding energy.
One of his early challenges was to chair Smethport's amazingly successful 2003 Sesquicentennial Celebration. During 2002 to 2003 he led the planning of Smethport's 150th year celebration to create an event truly equal to the importance of the occasion. Smethport proved itself to be truly a "Timeless Home". This was a celebration of historic proportions.
Our adopted son then spotted a unique opportunity for Smethport to apply for a Pennsylvania Route 6 Heritage Community Designation and Heritage Community planning grant. Again he dove in, wrote the grant application and secured the planning grant and oversaw the Heritage Community Planning Committee. This led to more months and months of community planning and involvement as the Heritage Community Master plan was crafted.
Then, suddenly, the Chamber of Commerce was in a tight spot and needed an injection of seasoned leadership. Again, our adopted son picked up the rope, pulled up the slack and was again at the reigns.
Which leads us directly to this evening. This civic career and this volunteer.
Tonight we present our 2008 Volunteer of the Year award, to Mr. Wayne Pearson."
Ross Porter also noted that Wayne is Smethport's unofficial "Poet Laureate" and that he seems never to allow an occasion to pass without some creative wordsmithing. Ross constructed a few lines in honor of Wayne:
There once was a shining knight named Wayne.
He retired from Dupont
And with fair Mary Lee to Smethport they came.
Together they restored Casper Smith's historic domain
A remarkable family homestead set back on Candlelight Lane.
From the Back Valley Road into Smethport he plunged
And into our "Timeless Home" 150 event he lunged.
T'was a remarkable celebration for all to remember
The crowds by the 1000s
arrived in their threads of Victorian splender
And each toasted Wayne,
raised their glass high to exclaim
"Like Brigadoon, our crown jewel town, it doth shimmer."
Now Mr. Pearson in Keating didn't hide or retreat
But instead charged relentlessly into the heat
to assist in the rebirth of our town quite a feat
So it is tonight, we acknowledge this fact quite so dear,
And honor Wayne our Smethport "Volunteer of the Year".