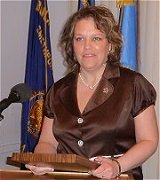 The Country Porch, owned and operated by Jackie Taylor, was selected by the Smethport Area Chamber of Commerce as Business of the Year during the organization's 8th Annual Dinner held Thursday evening at the American Legion's Bucktail Post.
Located at 113 W. Main Street, The Country Porch Café and Gift Shoppe was cited by the Chamber for its diverse offerings that keep the establishment busy with customers throughout the day.
Best known for its gourmet coffees, lunch menu, and free wireless hotspot, The Country Porch also features a gift shop, the works of local artists and craftspeople, and antiques. It is also a venue for craft demonstrations and entertainment during Smethport's many community events.
Scott Christie of Lakeview Senior Care & Living introduced the Business of the Year award as follows:
"When I first came to Smethport a little over a year ago for my first look at Lakeview I took a moment to look at the town that I would potentially be relocating my family to. As I drove through town I took notice of the shops along Main Street.
The Country Porch caught my eye. It had nice signage, attractive lighting, and tables and chairs out front. It reminded me a bit of a shop I would see when I would visit a high school friend in the college town of Bloomsburg. So… I stopped in and… WOW — what a unique store!
A store that had crafts, antiques, good food and drink, cards, toys, and COFFEE! Good coffee. I miss my Starbuck's but Jackie's place makes the pain go away… The store gets bigger and better every year and has been doing it and doing it well since 2004.
The Country Porch serves as a meeting place for different generations while keeping us informed of community events through posting flyers, and of course, word of mouth. What a wonderful idea to "diversify – and conquer". It is for these and many other reasons I can't fit into this small intro that I am pleased to announce the Country Porch as Smethport Chamber of Commerce's BUSINESS OF THE YEAR!"
Jackie has long been active in community affairs and currently chairs the Chamber's MAPS committee — Main street Action and Progress Strategies — which she founded to help put Smethport "on the map" as a tourist destination.