Smethport Web — by Nathan Muller
State grant funding for the WalkWork projects ends on February 3, 2012. WalkWorks was funded by the Pennsylvania Department of Health as a collaborative project between the University of Pittsburgh Graduate School of Public Health in partnership with the University of Pittsburgh at Bradford's Center for Rural Health Practice (UPB-CRHP). UPB-CRHP coordinated the program's activities in McKean County, with Claudia Caminite as the coordinator.

The objective of the program was to ease the burden of chronic diseases like diabetes, obesity and cardiac related illnesses through increasing physical activity in participating counties in the state.
Though funding for the program is nearing an end, McKean County involvement has been incredible in the participating communities of Bradford, Smethport, Port Allegany and Kane. Some walking participants described the program as "life changing". In addition to improving their overall health and losing weight they reported having more energy and feeling more content and connected.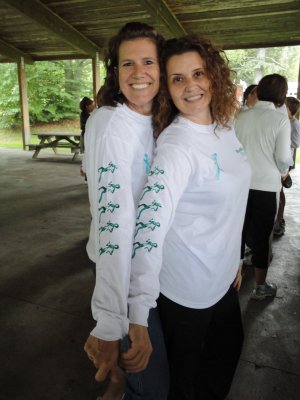 Since WalkWork's kick-off in May and June of 2011, over 50 participants in 9 groups ranging from children to seniors were involved. During the summer months of last year, individuals logged their times and walked competitively for a total of 4,035 hours.
A successful Ovarian Cancer Awareness Walk was held in September and more than 90 walkers participated and raised money for the cause. The grant required collaborating with many institutions, organizations, businesses and individuals.
Support from local governments enabled the designation of 4 existing community trails with WalkWork signs and stencils that are currently used in the communities. With the advent of inclement weather, some groups moved their weekly walks to the hallways in local High Schools.
Plans are in place to have Smethport's WalkWorks trail be included in an App for smartphone use. This would include coordinates, length and difficulty grade of the trail as well as interpretative data.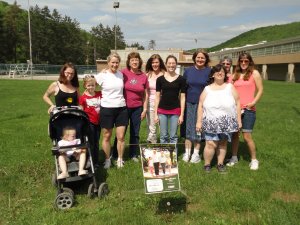 Smethport Elementary School applied for a Walkability Audit and a Facebook page is being developed to ensure the continuation of the program after the grant funding ends in February. We are very proud of the outstanding group leaders and walkers for their involvement and promotion of the program. Feedback for WalkWorks has been overwhelmingly positive in our participating communities, evidence that walking really works!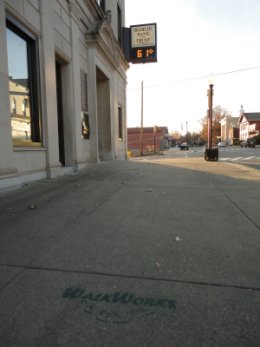 "We were fortunate to hire Ms. Caminite as coordinator of this program in McKean County and appreciate her contribution to the project's positive outcomes. Being physically active is one of the cheapest, effective and easiest ways to reduce the burden of chronic diseases. The degree of our communities' involvement in this program demonstrates their interest and knowledge in being personally responsible to improve individual and community health outcomes," said Dr. Youmasu J. Siewe, UPB-CRHP director.
For additional information contact Claudia Caminite at clc209@pitt.edu or call the Center for Rural Health Practice at 814-362-5050.