From news sources in Olean, NY; Smethport, PA; Richmond, VA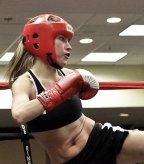 Friends gathered at the home of Linda and Nathan Muller to watch daughter Robin Reese battle for the World Kickboxing Association's championship title of Virginia.
The Mullers had known Robin would be participating in the Richmond event for some time and had tried to talk her out of it. They were somewhat relieved by the assurances of their son-in-law Aaron that Robin was well conditioned and coached and that padding would be worn during the fight.
But the Mullers' apprehension returned as more information dribbled in. Robin's first amateur bout would be for the championship belt against an experienced opponent who trains full time in the martial art of Muay Thai, a combat sport that originated in Thailand.
Simmering apprehension turned into bubbling alarm when the Mullers saw the ominous looking event poster and the Pay Per View advertising about the matchup: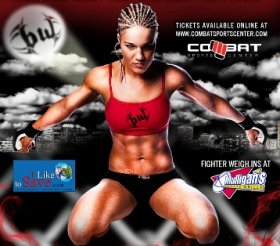 "Reese will face Ani Hilditch for a WKA Championship, so expect these two women to come out punching and kicking with bad intentions.
Hilditch has been a veteran to the Muay Thai scene for some time now and looks to finally cement her legacy with a championship belt. To do so, she will have to overcome Reese, who has quickly shown that she is ready to fight for a championship.
Muay Thai can be a brutal contest of bone cracking strikes. Expect Hilditch and Reese to do everything in their power to devastate and debilitate one another in this championship bout."
After more phone discussion, the Mullers resigned themselves to the wishes of their 27 year old daughter. They invited Ross and Jovanna Porter, Jeff and Christy Andrulonis and Jack and Mary Pierotti – both of whom practiced the martial arts in their '20s – to watch the event with them. The Pierottis provided insight into what was really happening in the ring. The Porters and Andrulonises provided calming observations intended to keep the Muller household at even keel.
The fight, consisting of three rounds of two minutes each, was indeed a slugfest. Using fists, feet, knees and elbows Robin and opponent Ani Hildritch went at it in relentless fashion. Their conditioning enabled both women to absorb incredible punishment. Hildritch inflicted five "Superman punches" during the bout, each intended as a knockout blow. Never having seen this before, Robin had no defense. But she took the blows without faltering, and continued the fight as if hardly touched.
In the end, neither fighter went down, but it was Hildritch who bled. The three judges were unanimous in their scoring, 27 to 30 in favor of hometown favorite Ani Hildritch, who took the title belt. Interviewed after the fight, Hildritch was asked if she was surprised at Robin's toughness. "She's a good fighter," she said.
Robin has been engaged in martial arts since Middle School and is now finishing her Masters in Education Counseling at George Washington University. She intends to continue training in Muay Thai and wants to compete again.
Postscript: Robin received her Masters in Education Counseling at George Washington University on May 19, 2012 with a 4.0 GPA.