Smethport Web — by Nathan Muller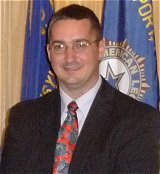 Colonial Radio Group has announced that it has signed an exclusive national sales representation contract with Local Focus LLC, the nation's biggest advertising rep firm specializing in small and medium markets.
Smethport's Jeff Andrulonis, President and CEO of Colonial Radio Group, said he is excited about the exclusive representation agreement with Local Focus. "Our cluster has grown significantly. With this being a Presidential election year, we're already seeing significant political dollars coming to Rush Limbaugh, Glenn Beck, and Sean Hannity on our NewsRadio 96.7 WVTT."
Andrulonis noted that this relationship will also help The Mountain, Big Bob, and SportsRadio 93.9 because Local Focus has offices and reps in New York, Philadelphia, Detroit, Chicago, South Florida, Atlanta, Dallas, Los Angeles, and Seattle. "Major ad agencies in those cities will now be able to use their existing relationships with Local Focus reps to have true 'one-stop shopping' for radio advertising in Olean and Bradford."
Colonial Radio Group was founded in 1995 by Jeff Andrulonis, who remains the 100% stockholder in the company, which now owns and operates eight FM signals in the Twin Tiers of New York and Pennsylvania including NewsRadio 96.7 WVTT, The Mountain / 106.3 WXMT & Olean's 98.7, 95.3 / 99.1 BIG BOB Country, and SportsRadio 93.9 WVTT.