Smethport Web — by Nathan Muller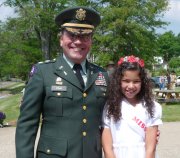 Lt. Col. Sean O' Day, U.S. Army, Ret., was the keynote speaker at the Smethport Memorial Day service. He commended those who continue to serve voluntarily in the armed forces, despite the high probability of being deployed to a combat environment as part of the Nation's war on terror, now in its ninth year.
Although conscription had been used during the Civil War, World Wars I and II, and the Vietnam War, O' Day noted that most of those who have served in the military throughout our nation's history have done so as volunteers, and not as draftees.
Having served in Iraq in 2004, O' Day drew on first hand experience when he said the young people he encountered there were smart, dedicated risk-takers and that when they come home they often make the best candidates for industry and their local communities due to the ethics, morals and loyalty they so amply demonstrated during their service to country.
Here are some photos of Memorial Day in Smethport.