Smethport Web — by Nathan Muller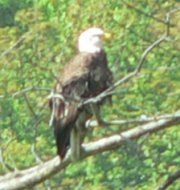 A bald eagle was sighted last week by Jack Pierotti just outside of Smethport in Irish Hollow. The bird was likely canvassing the fish population in Pierotti's pond.
According to Pierotti, the photo was taken at an estimated 150 yards from the bird with a 12X zoom lens on his camera. "The eagle was watching me intently and I was afraid my presence would spook it if I tried to get closer," Pierotti said.
"It did not take me long to decide that Ben Franklin was wrong when he wanted the Turkey chosen as the national bird," Pierotti pondered. "Had I been part of the Continental Congress during the late 1700s, I would have been among the majority that concluded the Bald Eagle is much more fitting for that role, although it may not taste as good as Turkey. The Bald Eagle looks strong, confident, independent, and majestic."
Bald eagles are expanding their nesting range in Pennsylvania, according to the state Game Commission. Last year the Commission counted 155 active nesting pairs, with at least one nest site in 47 of the state's 67 counties.
Bald eagles like to visit areas of open water on lakes and rivers, and are a common sight along the section of the Susquehanna River between Lancaster and York counties. Although they can be seen virtually anywhere in Pennsylvania, they are still a rare sight around Smethport.