Smethport Web — by Nathan Muller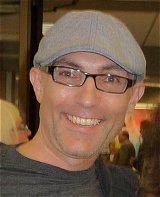 Smethport residents had the opportunity to attend a beer tasting at Hamlin Memorial Library on Saturday. Guests sampled premium beers provided by Straub Brewery in St. Marys and indulged themselves with fine foods and hors d'œuvres prepared with beer recipes from author John Schlimm's, "The Ultimate Beer Lover's Cookbook."
Library staff and volunteers used the cookbook to prepare such unusual dishes as beer chili prepared by Debbie Babcox, drunken shrimp provided by Seth Digel, and chicken and spaghetti cooked in beer by Ron and Joncine Willis. The results of these and other culinary delights were nothing less than fantastic.
John Schlimm was on hand to greet guests and sign books. He is member of the Straub Brewery family of Pennsylvania, one of the country's oldest brewing families, which dates back to the 1870s.
John has two popular books to his credit: "The Ultimate Beer Lover's Cookbook," which contains over 400 food and drink recipes that use beer as an ingredient, plus "The Beer Lover's Cookbook," a paperback version with about 300 food and drink recipes. His latest book is "Harrah's Entertainment Presents…The Seven Stars Cookbook," which was also on display at the library's beer tasting event.
The palate pleasing dishes offered to library guests included…
Apple Tree Punch by Ron and Joncine Willis
Beer Chili by Debbie Babcox
Baja Blue Black Beans by Mary and Terry Palmer
Cheese Bites by Donna Puller
Chicken and Spaghetti by Ron and Joncine Willis
Classic Dip by Terri Jarrett
Drunken Shrimp by Seth Digel
Paula Deen's Gooey Butter Cake by Lori Rounsville
Pecan Herbed Orzo by Julie Mader
Salsa Dip by Debbie Babcox
Sausage Bites by Terri Jarrett
Spicy Chedder Cheese Spread by Terri Jarrett
Turkey Roasted Corn Soup by Ron and Joncine Willis
The beer tasting event attracted a large crowd and library directors are already talking about other types of events for the library. With state funding levels being cut, the library must play a bigger role in raising operating funds.