Smethport Web — by Erin Vassallo

Big Brothers Big Sisters of McKean County would like to thank the businesses and individuals who participated in Bowl For Kids' Sake 2012. Bowl For Kids' Sake is our largest annual fundraiser that took place on March 31, 2012 at Byllye Lanes in Bradford. These funds raised will support the one on one youth mentoring program throughout McKean County.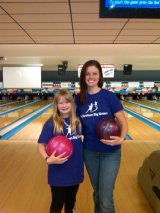 More than 250 bowlers participated in this year's Bowl For Kids' Sake event in McKean County. Between bowler donations and business sponsorships, the 2012 Bowl For Kids' Sake event raised almost $18,000 to support mentoring for McKean County youth in the coming year. Each bowler raised at least $35.
Individually, the top fundraising participants were awarded; Stacey Gallegher raising the most for first place, Brenda Bloomgren at second, and Scott Bloomgren at third. Brenda and Scott Bloomgren explain that they have been participating in Bowl For Kids' Sake for 15 years. Brenda, unable to bowl because of a cast on her leg says, "They just wouldn't miss this event."
Every participant enjoyed two bowling games, shoe rental, food, lots of entertainment, and tons of prize giveaways. Entertainment was provided by Take 3 Band and Jamie Petrush of Magic Man Industries. Youth and staff of the Independent Living program raised $3,000 and participated in Bowl For Kids' Sake. We appreciate this collaboration and contribution to the Big Brothers Big Sisters program.
Teams were also awarded prizes for uniformity and creativity. This years team contest participants included Foster Brook Glass, Independent Living program of McKean County Human Services, McCort Label and Label Man, WESB Radio and IGOR, Team 'Balls and Dolls", and several teams dressed in flannel coming by school bus from Kane.
We greatly encourage community members to patron those businesses that donated and participated in Bowl For Kids' Sake. This year's event sponsors included Championship sponsor, American Refining Group. Perfect game sponsors included WESB, Zippo, Bradford Aeries & Auxiliary, University of Pittsburgh at Bradford and Little Caesars Pizza, who donated the pizza for this year's event.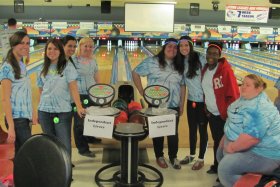 Strike sponsors included Close's Lumber, Asel Enterprises, Port Notary, Kiwanis Club of Bradford, Smethport VFW, and Greek Council at UPB. Spare sponsors included Pine Haven Veterinary clinic, W.E. Swanson Agency, Zook Motors, Kwik fill, W.R. Case & Sons Cutlery Co, Kane and Eldred Lions Clubs, Wal-Mart distribution center, Northwest Savings, Bob Cummins Construction, Eldred Lions Club, General Roofing Co, Kane Hardwood, Burns & Burns Associates Inc, Hamlin Bank & Trust, Italian-American Progressive Club, and Alcas Corporation.
Also a special thank you to all of the general donors and all of the many other businesses who donated prizes to support Bowl For Kids' Sake.
If you or your organization is interested learning how to participate in or donate to Big Brothers Big Sisters of McKean County, please call Big Brothers Big Sisters at 814.887.5591 or 1.877.776.1636.