Smethport Web — by Nathan Muller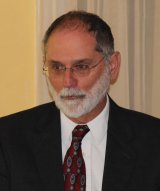 The Smethport Area Chamber of Commerce held its 11th annual business dinner Wednesday at the American Legion hall. The event drew 38 attendees who enjoyed drinks and appetizers during the social hour, while country singer Kaitlyn Hallock from Bradford provided the evening's entertainment.
Following a fabulous dinner prepared by volunteers from the American Legion Auxiliary, Charles Leasure, Superintendent of the Smethport Area School District, gave an insightful presentation on "Connecting Business with Education."
Leasure noted how unprepared today's young people are for achieving the American Dream and how poorly the U.S. fares in relation to other countries competing with us in the global economy. In terms of high school and college graduation rates, as well as employment, we have allowed ourselves to fall behind, he said.
"It's not so much that we are doing everything wrong, it's that the rest of the world has finally caught up," Leasure said.
One of the success factors driving other economies is the emphasis school systems in other countries place on vocational and technical training. Leasure said that students are tracked into these programs at the middle school level, and by the time they graduate they step right into well paying jobs.
According to Leasure, high school education in the U.S. is still focused on reading from books, rather than demonstrating the relevance of math and science through practical application, as is done in vocational programs.
Leasure noted that not all students in the U.S. need to go to college to enjoy meaningful careers and good jobs, nor should it be the overriding goal of our school systems to send every student to college. He said even certificate programs in medical services and law enforcement can qualify young people for salaries between $30,000 and $40,000 a year, and a career path to even more opportunities.
Citing President Barak Obama's support of community colleges as a way to create pathways to jobs and specialized training, Leasure noted that Pennsylvania has no community college north of Interstate 80. "Although plans have been discussed from time to time, nothing has happened yet." This is in stark contrast to Virginia where, Leasure said, every resident is within 40 minutes of a community college.
Leasure said that the "one size fits all" approach to education in the U.S. has to change in favor of a mixed approach that is more responsive to student needs and more suited to preparing them for participating in the increasingly competitive global economy of the 21st Century.