Smethport Web — by Les Jordan, Jr.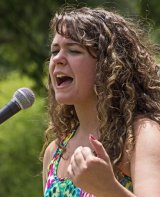 As I walked across the Hamlin Lake Island Bridge to experience the Wooy Willy Wonderdaze activities there, I was struck by the beautiful voice of a female vocalist emanating across the lake.
After a short walk, I approached a small flat-bed trailer where a pretty 15 year old was singing with the recording voice of a Nashville pro.
The young lady's name is Kaitlyn Hallock who attends Bradford High School where she is an honor student and 12th in her class. After high school she plans to major in Commercial Music with a minor in Education. She hopes to organize a pediatric playroom for children at the Bradford Hospital for her Senior Project.
Kaitlyn has produced two CD albums in Nashville. The first is titled, Dreamer in a Small Town, and the second is titled Boogie-Woogie Rock and Roll. She is in the process of producing a third album titled, Train. Profits from her sales are donated to local charities such as the Ronald McDonald House and the Bradford Hospital.
This remarkable young lady, who "has always loved music," thinks that her God-given talent "needs to be shared with others." She likes the "pay-it-forward" philosophy and gives generously of her time and talent through Musicians on Call to perform for sick children in the area.
Kaitlyn has performed several times in Smethport. She and her mom are impressed by the way "'Smethport goes out of its way to make them feel welcome." Earlier in the day she sang the national Anthem at the McKean County Courthouse during the opening ceremonies of the Wonderdaze Festival.