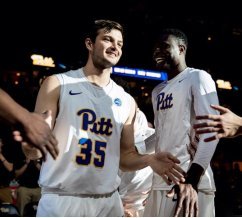 Bradford Era – by Nate Steis
The year is 2007, and Zach Smith, a 2013 graduate of Smethport Area High School, has a big decision to make. Should he really focus in on the game of basketball and play AAU travel basketball or not?
After Zach and his parents, Todd and Lori Smith sat down to look up more about travel basketball, the couple and Zach decided together it was a worthwhile venture for their son Zach to endure.
Smith began his travel basketball career not long after, and it was a true wake up call for the youngster from McKean County.
"It was a lot to wrap my head around at first," Smith explained. "There were a lot of games, talent, and also lots of intensity. I remember how nervous I was to begin my first travel basketball game. I was not sure how good some of the players and teams would be, and truly I was shocked how much talent there was out there." Read More