Smethport Web — by Nathan Muller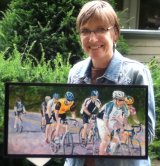 It's almost ready to roll again! Smethport's 2011, historic Wheel Around the Hub bicycle race is flying toward Saturday, September 17.
This year's race features a unique but beautiful 52+ mile four-lap course that steers participants away from the replacement project of the Galico Bridge. The race will start at noon on Main Street in front of the McKean County Courthouse. Proceeds will benefit the Smethport Volunteer Fire Department.
"The route still takes cyclists through Smethport's business district, past the McKean County fairgrounds and scenic farmlands and, special this year, further on Route 46 south through Crosby to the Crossover Bridge and then back onto the West Valley Road," said Ross Porter, the event's co-organizer. "The race then takes cyclists through forests, past Hamlin Lake, and back onto Main Street past Victorian homes."
Wayne Foltz, a volunteer with the Smethport Fire Department and president of the Smethport Area Chamber of Commerce, is co-organizer for the event. "Despite the change in the racing course, we are confident that cyclists will find it challenging and fun."
For the 52-mile feature race, male and female winners in various age categories will receive gold watches, cash and special Black Cherry medallions for all categories including age categories. Increased lap premiums will also be paid this year.
The Family Fun Race will be a 13-mile, one-circuit which will start approximately five minutes after the main race. Prizes will be non-monetary awards and the black cherry medallions for top and age category.
Smethport artist Julie Mader has created a painting commemorating this year's 'Wheel Around the Hub' bicycle races. The painting will be put up for auction during the awards ceremony.
Postscript: The winning bid for Julie's painting was $300.