Smethport Web — by Nathan Muller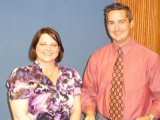 At a party they hosted this week at their Colonial Radio Group office in Olean, New York, Smethport residents Jeff and Christy Andrulonis had good reason to celebrate.
A year ago, Colonial had 5 staff members and 7 radio stations. Today, they have 20 staff members and 8 stations, making their fast-paced media business one of the region's great success stories.
"We still need four more people," said Christy Andrulonis, Vice President of the privately-held firm.
Colonial is seeking highly experienced people from the broadcast industry, including an engineer, sales reps and on-air talent.
Meanwhile, Jeff and Christy are improving the program schedule of their newest acquisition, WVTT (99.1 and 103.9), having recently added the controversial Alex Jones "Infowars" show to an all-talk lineup that already featured Glenn Beck from 9:00 am through Noon on weekdays.
Negotiations are in the works to add two more nationally syndicated talk shows. Although not officially announced, the two shows mentioned privately should solidify Colonial's standing as the region's foremost radio broadcast company.