Smethport Web — by Nathan Muller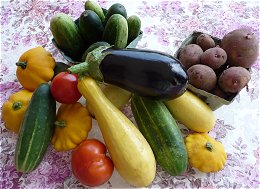 Hamlin Memorial Library hosts a Farmers Market that is held every Saturday until October 15. Located behind the library on 123 South Mechanic Street, the market is open from 9 am to 12 noon.
Vendors offer an array of vegetables at very low prices. It's a great way to supplement your own garden with items you may not have planted in spring. Buyers are advised to come early for the widest selection.
"We have vendors selling a variety of items including fresh vegetables from local gardens like lettuce, onions, beans, turnips, potatoes, squash, and tomatoes," noted Joncine Willis, one of the organizers of the weekly event.
She said there are also baked goods, including English Muffin Bread, home made pies, cookies and sweet breads, fresh baked calzones and pepperoni bread, snack mixes, soup mixes, blueberries, jam and jellies, honey, garlic and more.
"A variety of crafters offer Smellie Jellies, decorated frames for jewelry, hot/cold rice packs, quilted goods, Jim Baker's rugs, wooden creations with solar lights, purses/tote bags from the women of Bangladesh, and quilted items," Willis said.
Willis said she welcomes new vendors each week and the return of former vendors. Vendors are charged just $5.00 weekly for a space which benefits the Library. "We have received great feedback from those who have attended, most saying they are thrilled Smethport has its own Farmers Market!"