Smethport Web — by Ross Porter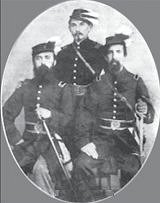 On Saturday, April 23 Smethport will hold its Sesquicentennial 2011 Civil War Bucktail Departure Reenactment in front of the the McKean County Courthouse.
Print and mail the Bucktail Departure Reenactment flier to friends and family.
It was in Smethport on April, 17, 1861, less than a week after the Confederate bombardment of Fort Sumter, South Carolina, that Philadelphian Thomas Leiper Kane, inspired by Smethport businessman Byron Delano Hamlin, brought together the McKean County Rifles and summoned men from throughout McKean, Elk and Cameron Counties to answer President Lincoln's call to save the nation's capital.
The McKean County Rifles Company "I", 13th Pennsylvania Reserves, 42nd Pennsylvania Volunteers became known simply as the "Bucktails" because of the distinctive bucktail insignia they wore on their hats. This unusual Bucktail symbol was born in Smethport when recruit James Landregan cut a deer tail at the butcher shop beneath the P. Ford Building, across from the courthouse and secured it on his cap. When Colonel Kane saw the deer tail he immediately approved of it and announced that his new regiment would be known as the "Bucktails".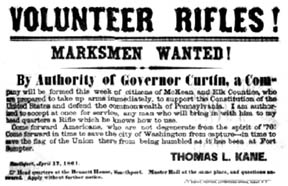 On April 25, 1861, the McKean County Rifles marched out of Smethport on their way to Shippen, now Emporium, and on to Camp Curtin, Harrisburg. Along the way other Pennsylvania county volunteers joined the original Bucktails, which evolved into an elite regiment of Pennsylvania riflemen known for their courage, focus, dedication and commitment.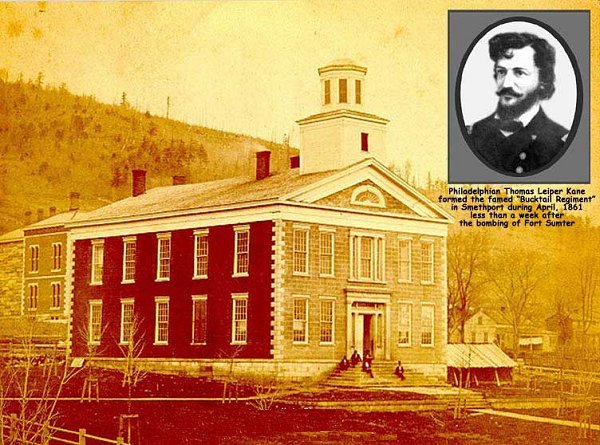 In 2006 the Borough of Smethport recognized their unique place in United States history and proclaimed Smethport to be recognized as the "Official Birthplace of the famous Bucktail American Civil War Regiment."
The Borough also resolved that April 25 of each year would be known as "Smethport, Birth of the Bucktails Day".
The ceremony this year will be held Saturday, April 23 with a breakfast buffet at the Courtyard Restaurant beginning at 8 a.m. with Thomas Leiper Kane. The original McKean Rifles recruits had breakfast prior to their departure at the Bennett House Hotel. The Courtyard Restaurant is built on the exact same site as the Bennett House Hotel, which was destroyed by fire in 1880.
The buffet breakfast is open to the public and period costumes are encouraged.