Smethport Web — by Nathan Muller
Erik Ross of Wood Baker & Ross in Smethport discussed legal issues with students participating in the Entrepreneurship Program at the University of Pittsburgh at Bradford. The program is aimed at students interested in pursuing business careers and building their own companies.
Erik spoke to the Entrepreneurship Capstone class on business entities about how to decide which legal structure to choose for a new business.
Also, each year students in the program's E-Venture Management course pick a business to work with to develop their online market. This year the students worked with Ken Rinamon of Ken's Custom Carving in Smethport.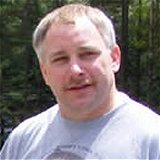 Ken produces custom designed Pennsylvania hardwood furniture and display pieces such as gun racks, china cabinets, mirrors, coffee tables, hope chests, and headboards. He sells his products at craft shows and dealers, but he wanted to develop online channels as well.
The class worked with Ken to develop stores on eBay and Etsy. Thanks to the program, Ken now has a strategic roadmap and some great ideas for developing his business.