Smethport Web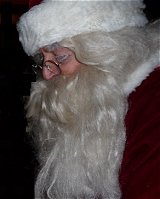 Friday evening, the Smethport Area Chamber of Commerce sponsored "Christmas Light-Up Night in Smethport".
The event featured a tree lighting at the corner of Main & Union Streets to kick off the Christmas Season. After Chamber president Nathan Muller read the Borough Proclamation on behalf of Mayor Ross Porter, a chorale and instrument ensemble from the Smethport High School braved the sub-freezing temperature to treat guests to a medley of Christmas songs.
Santa and Mrs. Claus attended the event and passed out Wooly Willy gifts for the children.
Graham Nannen and his family graciously donated the use of their tree for "Christmas Light-Up Night in Smethport".
Special thanks go to Borough electrician Charlie Jones who labored with Don Gamet in the cold and rain to install the tree lights earlier this week.