Smethport Web — by Les Jordan, Jr.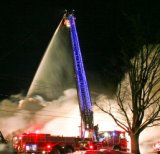 Multiple sirens sounded in Smethport around 2:00 a.m. Friday morning as the Smethport fire Department was dispatched to a fire at the Cottage House Restaurant on Fulton Street.
When the firefighters arrived a few minutes later, fire and smoke were showing out of the back of the building and quickly spread out of control into a full structure fire.
A brisk wind pushed the fire deep into the structure, one of Smethport's landmarks, which was once a popular destination as the Fulton House years ago.
According to fire policeman and Smethport council President, Greg Rounsville, smoke was already showing from the building when he looked out of a window at his home a few seconds after the siren sounded.
It only took about a half an hour for the building to be fully engulfed, explained Rounsville.
Several area fire departments responded with mutual aid on the scene. They included: Port Allegany; Eldred Borough, Roulette for stand-by at Smethport, Norwich Twp., and aerial trucks from Kane and Emporium.
The popular restaurant had sat idle for several months. According to Rounsville, the Pennsylvania State Fire Marshall was in route to the scene to investigate the cause of the fire.