Smethport Web — by ANF Visitors Bureau
Mother Nature's premier "show" of the year has just begun and promises to have at least a two-week run in Smethport as well as the entire Allegheny National Forest region.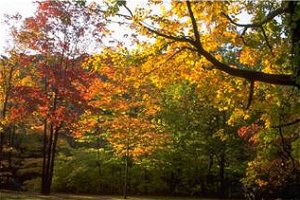 The "show" in this area is always candy for the eyes with vibrant hues of scarlet, orange and butterscotch yellow. Local forestry officials anticipate Oct. 2-10 as the peak for the best color this season, and are predicting vivid color due to the early warm temperatures and cool nights in the higher elevations of the Allegheny Plateau.
One great way to see this canopy of color is to "Do 6″ – meaning Route 6, the major west-east corridor in northern Pennsylvania. National Geographic Traveler named this roadway as "One of America's Most Scenic Drives."
Meander through the rolling forestlands of Sheffield, Ludlow, Kane and Smethport as the terrain turns into increasingly rugged hills.
Circling around the Allegheny Reservoir, with two distinct overlooks – Jakes Rocks and Rimrock – the Longhouse National Scenic Byway was named by Travel Savvy Magazine as one of the top six fall foliage drives in the United States. The Longhouse National Scenic Byway, is just north of the village of Kane, a 27-mile loop along Route 321 and Route 59, circling back to Kane.
This byway also provides access to a variety of hiking trails so those looking to connect with nature via a brisk fall walk can enjoy Rimrock Trail or the Morrison Trail loop. Picnic tables are also available at the Rimrock Overlook.
For those who want see a little of the grandeur of days long ago, take time to do the Mansion District Tour in Smethport, a self-guided walking tour that offers visitors a chance to see the beautiful homes of McKean County's most prominent residents built during the late 1800s and early 1900s. Notable architectural styles include Victorian, Colonial Revival, and English Gothic.
For additional leaf-peeping suggestions, please visit www.visitANF.com which offers driving tour suggestions as well as downloadable maps and guides. Or call the Allegheny National Forest Visitors Bureau at 800-473-9370 for a free brochure that features seven scenic tours with driving directions and mapping.