Smethport Web — by Nathan Muller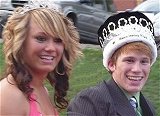 Friday was Homecoming Day in Smethport. The celebration featured a parade down Main Street, led by Mayor Ross Porter, who was followed by Grand Marshal Charles "Chuck" McKiernan.
They were followed by the High School Marching Band. The band from Kane High School also participated in the parade. Their football team, the Kane Wolves, was in town to play the Smethport Hubbers later in the evening.
Among the Smethport Area High School students featured in the parade were Prom Queen Payge Colley (2009), Miss McKean County Fair Queen Kayla Woods (2010), and a truck load of cheerleaders.
School staff and community leaders were also in attendance, as well as SASD Superintendent Charles Leasure.
After the parade, the Hubbers hosted the Wolves in what turned out to be a very exciting game.