Smethport Web — by Nathan Muller
The record shattering 2010 Wheel Around the Hub Cycling Race held in Smethport September 18th was a giant community effort involving dozens of volunteers and numerous local and regional businesses, industries and individuals.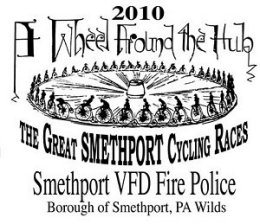 The race was organized by the Wheel Race Committee, a special committee of the Smethport Fire Department as a special fund raiser for the Smethport Fire Police, a division of the fire department. Over $6000 was raised for the volunteer Fire Police to purchase new digital radios and equipment.
The race organizers wish to thank all of our donors for making the race a huge financial success for the fire police.
Primary sponsors for the race included:
Platinum First Responder Sponsor
Smethport Rotary Club
Platinum Sponsors
Costa's Super Market, Inc. / Costa's Ace Hardware
Hamlin Bank and Trust Company
Just Riding Along – cycling gear
S-M Energy Saint Mary Land & Exploration Company
Smethport Area Chamber of Commerce
Smethport Lions Club
Gold Sponsors
Gannett Fleming, Inc.
Northwest Savings Bank
Scott Newton-Financial Advisor / Kades-Margolis
Silver Sponsors
American Refining Group, Inc. – Bradford, PA
Backus Company / Chef Specialties
Bill Lake Real Estate
Buchanan Brothers Pharmacy, Inc.
C.L. McKeirnan Bus Garage
Duffy's, Inc. – Excavation Contractors, East Smethport
Edward Jones / Keith Delacour, Financial Advisor
JB Distributor, Inc.
Lakeview Senior Care & Living – Smethport, PA
Mansion District Inn, LLC – B&B in Smethport, PA
McKean County E-Sales
Olsen Tenglund NAPA – Smethport, PA
Patch Products, Inc. – Beloit, WI and Smethport, PA
Rainy Day Farm, Inc.
Saint Elizabeth's Catholic Church – Smethport, PA
Sena Kean Manor
Smethport Motel
Smethport Tire & Gas Smethport, PA
Bronze Donors
Country Porch
E&M Engineering
Lightwaves Laser Engraving – Diana Covert
Myra's Restaurant – East Smethport, PA
Smethport VFW
Worth W. Smith Hardware
Donors
Lindgren's Variety
Rocking Horse Realty
Tri-County Tire
Special Supporting Donors
Charles Cole Memorial Hospital – Coudersport, PA
Chef Specialties
Colonial Radio Group
Courtyard Family Restaurant
Julie Mader – PA Wilds Juried Artist
McKean County Sheriff's Department
Nathan & Linda Muller – web and photos
Priority Care Ambulance
R&R Services / Rob Rittberg – Smethport, PA
Shawn Murray Photography – Bradford, PA
Smethport Borough Police
Signs by Stephanie
Total Engraving – awards donor