The Bradford Era — by Fran De Lancey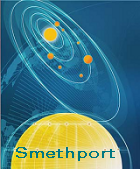 Smethport, the first Route 6 Heritage Community, is now actively promoted on a multi-media Web site.
Linda and Nathan Muller, who have Internet and Web site experience, have developed the unique site, smethportpa.org.
"My first big Web site was for Pat Buchanan when he was a presidential candidate in 1995. From there on, I just continued creating Web sites for conservative candidates and issues and developing my skills at the same time," Linda Muller said.
Nathan Muller's experience dates back to pre-Internet days when he was a student at San Diego State University in the 1970s.
"At that time, what was to become the Internet was simply a bunch of isolated regional networks. After they were linked, they became the Internet."
While he has created corporate Web sites, Nathan Muller said that those projects didn't always allow him to be really creative because the clients dictated what they wanted done.
"With the Smethport Web site, though, we can pretty much indulge ourselves creatively and put together a package that is multi-media in nature," he noted. Read more>>

Nathan and Linda Muller, developers of the Smethport website, are interviewed by Rose Bishop of WQRM-FM. They discuss some of the new features they are working on that will become available soon to serve Borough residents.