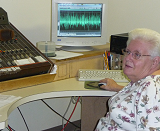 The host of local radio station WQRM, Rose Bishop, has been in the business for 16 years. From her second floor office on 211 W. Main Street, she interviews guests, reports local news, sells advertising, and manages the station's daily broadcast schedule. She is also active in various community organizations.
Rose works with a small staff, including engineer Bobby Schauer and Megan Simms, who is at the helm in the morning slot with your local news, sports and events happening in the area. Sports and games are handled by Dave Ezzolo, William Lord, Scott McQuire, Cody Taylor and Damien Kreckel.
WQRM is part of Farm and Home Broadcasting, the main office being Allegheny Mountain Network based in Tyrone, Pennsylvania. The FM station broadcasts on 106.3 using a 6,000-watt transmitter. The programming is simulcast on 99.3 in Bradford.
The station signed on the air for the first time in January 1990. At the time, operations and support came out of its sister FM station in neighboring Tioga County — WNBT in Wellsboro. Three years later WQRM was set up with its own studio and offices in Smethport in the basement of an office building that stood on the corner of W. Main and Fulton Streets. When that building burned down, the radio station set up shop at its present location.
The station offers a variety of music to appeal to a wide range of listeners. The music is piped in from Westwood One, which bills itself as the nation's largest provider of audio content. WQRM gets its national news from the USA Radio Network, which streams up-to-the-minute local, national and world news right into the station.
Local businesses and civic organizations will find Rose very easy to deal with when it comes to purchasing air time. For an astoundingly low price, you can advertise upcoming events or sell products and services. Mary Palmer does the voice-overs for many of the local advertisers and even helps them develop their messages.
To learn more, just set your dial to 106.3 and take a listen.
Interested in advertising? Call Rose at 814.887.2425.