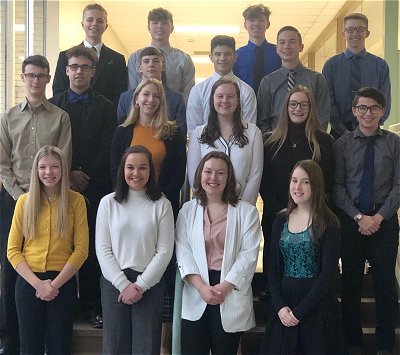 The new Smethport DECA Club competed in their first District 1 competition at University of Pittsburgh at Bradford on December 10.
All seventeen members pictured — Parker Jack, Richie McDowell, Kolby Wilber, Connor Alfieri, Brandon Higley, Braedon Johnson, Trevor Zuver, Jordan Pavlock, John Adamoski, Alexis Shall, Anna Holohan, Kassidy Didomizio, Griffin Hess, Jenna Gregory, Kelsey Martin, Chloe Costa, and Haley Leet — selected a competitive event and were required to complete an intense written exam and perform a role play situation in front of a judge.
Ten of the Smethport DECA students have qualified to advance to the state competition at Hershey in February.
Those to compete are as follows: Kassidy Didomizio — Principles of Business Management & Administration, Parker Jack — Business Services Marketing, Anna Holohan — Marketing Communications, Jordan Pavlock — Quick Serve Restaurant Management, Connor Alfieri — Sports and Entertainment Marketing, Haley Leet — Restaurant and Food Service Management, the team of Richie McDowell and Trevor Zuver — Sports and Entertainment Marketing, and the team of Braedon Johnson and Kolby Wilber — Travel and Tourism.
Jordan Pavlock was also awarded the overall "Best Test Score," "Best Role Play," and "Outstanding Student Award."
With nearly a 75-year history, DECA prepares emerging leaders and entrepreneurs for careers in marketing, finance, hospitality and management in high schools and colleges around the world.
DECA is organized into two unique student divisions each with programs designed to address the learning styles, interest and focus of its members. The High School Division includes 200,000 members in 3,500 schools. The Collegiate Division includes over 15,000 members in 275 colleges and universities.
DECA Inc. is a 501(c)(3) not-for-profit student organization with more than 215,000 members in all 50 United States, the District of Columbia, Canada, China, Germany, Guam, Mexico, Puerto Rico and Spain. The United States Congress, the United States Department of Education and state, district and international departments of education authorize DECA's programs.