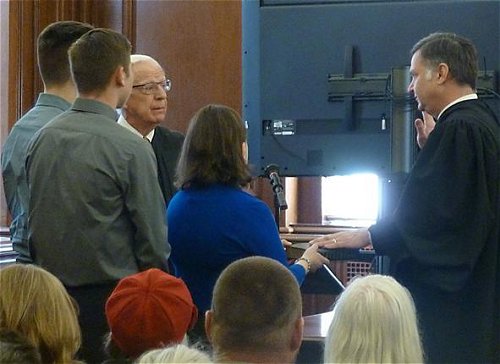 Bradford Era – by Ruth Bogdan
New and re-elected officials in McKean County gave their word on Monday that they would fulfill their duties in accordance with the law.
A swearing-in ceremony was held at midday in the McKean County Courthouse in Smethport for 16 elected officials. Senior Judge John M. Cleland administered the oath of office for President Judge John H. Pavlock, and Pavlock administered the oath for the remaining officials.
In addition to Pavlock, others sworn in were Commissioners Carol Duffy, Clifford Lane and Thomas Kreiner; District Attorney Stephanie Vettenburg-Shaffer; Treasurer Melissa Jo Smith; Register of Wills Wendy Yaros; Recorder of Deeds Anne Bosworth; Mayor James McDonald of Bradford City; Supervisor John Ryan of Lafayette Township; Supervisor Jeffrey Rhinehart of Eldred Township; Councilman Charles Paar of Mount Jewett; Coroner Michael Cahill; Supervisor James Trussell of Hamlin Township; Supervisor Chris Carlson of Sergeant Township; Supervisor James Thomas of Norwich Township; and Auditor Tena Emerson of Norwich Township. Read More