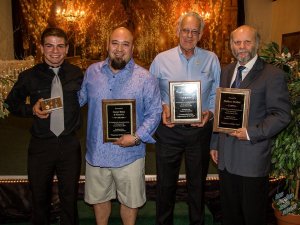 Smethport Web — by Chamber of Commerce
The Smethport Chamber Annual Dinner meeting was held on Wednesday, May 11 at the Court of Angels/Courtyard Restaurant, providing a chance for Chamber members and guests to reflect on the past year while celebrating the community's accomplishments. The event was officiated by Chamber vice president Megan Simms of Colonial Radio + Entertainment.
Meredith Hill, PA Wilds Director, DCNR, introduced keynote speaker Ta Brant, who is the PA Wilds Small Business Ombudsman. She outlined the many initiatives of the PA Wilds Center for Entrepreneurship. These include the Pennsylvania Wilds Artisan Program, PA Wilds Trademark Licensing Program, Small Business Assistance, and Youth Entrepreneurship.
Ferlin Patrick, Executive Director of Growth Resources at Pennsylvania Free Enterprise Week, provided an update on this Chamber supported program held at Lycoming College in Williamsport, PA. Patrick introduced local Smethport student graduates who participated in 2015: Adrienne Nannen, Stone Page and Shania Anderson.
The three joined hundreds of other students from around the state who were divided into groups of 20 and participated in simulations in which they had to make executive decisions that would impact various aspects of their business. Adrienne Nannen and Stone Paige spoke about their positive involvement during the intense week of program activities, with Stone describing his experience as the best decision he ever made.
Smethport coach Marshall Shunk introduced senior Jimmy Duffy who was honored for his awesome wrestling accomplishments (36-1) and winning the silver medal in the state championships in Hershey, Pennsylvania. In addition to describing Jimmy's extensive performance record, Mr. Shunk noted Jimmy's courage, stamina and self-discipline. The Chamber presented Jimmy with a sealed proof set of American coins as a token of appreciation.
Ross Porter presented the Business of the Year award to Riki Tanaka, owner of The Corner Bistro & Pizza Company on Main Street. In addition to serving good food and offering an extensive menu, Porter noted how the establishment has become a gathering place for the community, a role that was formerly filled by The Cottage House, a historic landmark that burned to the ground in December 2010.
Phil Smith accepted the Community Service Organization award on behalf of the Smethport Rotary Club of which he is president. Nathan Muller was this year's recipient of the Volunteer of the Year award for his 8 years of service with the Chamber in various Board positions and for voluntarily taking care of both the Borough and Chamber websites.
Music was provided by Drew and Emma Barr. Les Jordan, Jr. was the event photographer. Raffle items were donated by Judy Leasure, Nathan and Linda Muller of Smethport Web Services, Smethport Area Chamber of Commerce, Colonial Media + Entertainment, Phil and Karen Smith, and Northwest Savings Bank. Table decorations were provided by Karen Smith.
The dinner ended with the announcement of the new Board of Directors for 2016 – 2017: Megan Simms (Colonial Media + Entertainment), Lauren Bly (Northwest Savings Bank), Heidi Scrivo-Passmore (Sena Kean Manor), Phil Smith, and Les Jordan, Jr.
The Bradford Era also covered this event.