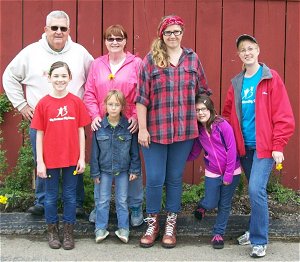 Smethport Web – by Annie Wolfe
McKean County's community service staff hosted a spring group event for The Guidance Center's Big Brothers Big Sisters Program on May 7th at the Good Growing Garden facility in Smethport. Educational activities included a presentation and discussion by 3G Coordinator, Mike Barnard, about the history of the grounds and historic apple orchard.
The garden and grounds was originally the site of Smethport's Poor Farm, established in 1884. Mr. Barnard discussed the mission of Good Growing Gardens which is to provide community service opportunities to offenders in the criminal justice system, help offset the cost of meals for inmates housed in the McKean County Jail, and to provide handmade wood crafts, organic vegetables, and flowers to the community.
Participants enjoyed a nature walk along the Shawmut Grade and Orchard Trail and learned about the recent Bridge and Trail dedication held in memory of the former staff and residents of the Poor Farm. After the walk, Bradford High School Science teacher, Peter Eckstrom, provided the group with hands on learning about bird banding. A picnic lunch was held afterward at Hamlin Lake Park.
If you would like to experience this kind of mentoring opportunity with a child in your community, please contact Big Brothers Big Sisters of McKean County locally at 814-887-5591,toll free at 1-877-776-1636 or online at www.bbbs-jem.org.