Smethport Web — by Nathan Muller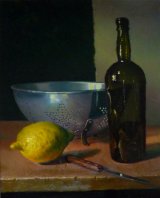 The McKean County Court House in Smethport, Pennsylvania hosted the local art community at mcART Nite on Saturday evening. Artists and crafts people displayed their creations, which included paintings, drawings, carvings, weavings, writings, and photos. The evening included the ever-popular auction of artworks and other donated items.
The annual gala event is sponsored by the McKean County Historical Society. This year the event was supported by Northwest Savings Bank and the Pennsylvania Council on the Arts, a state agency funded by the Commonwealth of Pennsylvania and the National Endowment of the Arts, a federal agency.
As always, the goal of this event continues to be one of supporting the community's local artists by providing a stately venue for the display of their works. Against the backdrop of acoustic music, and with plenty of wine and hors d'oeuvres on hand, the community was afforded an opportunity to view the works of some very impressive talent that exists in our own county.
Among the notable artists was Christopher Robbins, who specializes in landscape and still life oil paintings. In addition to providing an extraordinary display of his works, he donated a still life for the auction, Lemon with Whiskey Bottle. When bidding for the fine painting concluded without reaching the reserve amount, the top bidder graciously increased the final bid by a very substantial amount to meet the reserve.
Proceeds from the evening and the auction help to raise much needed funds that are used for the maintenance of the Old Jail Museum facility.
According to Lu Vandermark, the executive secretary for MCHS, "The museum's desire is to encourage new artists, or those pursuing a career or hobby in the arts." Vandermark noted that there was no vendor fee to display works, although a percentage fee from sales goes to support the museum.
The event also showcased the talents of the area's school students whose art was displayed in the Court House rotundra, one of the premier areas of the show. Smethport Area High School art teacher, Roxanne Page, who displayed some of her work at last year's mcART Nite, assisted with the museum's endeavor to highlight some of the artistic talent of our youth.