Smethport Web — by Nathan Muller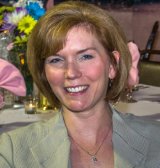 The Smethport Chamber held is 14th annual business dinner Thursday at the Court of Angels Restaurant. Sixty-six attendees enjoyed a fine buffet dinner and music by pianist Emma Mader.
Guest speaker Dusti Dennis, Executive Director of the McKean County Redevelopment and Housing Authority, discussed the organization's new building under construction on Main Street. Dennis noted that the structure represents the largest investment on Main Street since the Grand Central Hotel, built in 1881 on the same site and destroyed by fire in 1899.
Dennis said the Housing Authority has outgrown its current location on E. Water Street where files have to be moved off-site, parking is inconvenient, and access is often difficult. The new three-story building will have over 15,000 square feet of office space, plenty of parking in the rear, and wheelchair access in the front.
The building's design calls for a brick facade and decorative parapet to complement historic buildings along Main Street. The interior lobby will feature multi-toned walls and a coffered ceiling. According to Dennis, the building is 88% complete and employees should start moving into their offices in June.
Four Smethport High School seniors shared their experiences attending last summer's PA Free Enterprise Week program at Lycoming College in Williamsport, Pennsylvania. Ryan Woodring, Kristin Andrulonis, Ahnna Nelson, and Scott Master participated in the summer program under scholarships funded by the Smethport Chamber.
All four students reported having a positive experience in the immersive 7-day business boot camp where they simulated the actual operation of their own business and faced all the decisions of real executives. In the process, they learned the value of teamwork, leadership and communication skills. They said the experience has also better prepared them for college, including what dorm life will be like.
Several awards were presented during the dinner…
Ross Porter presented Rainy Day Farm with the Business of the Year award. Since 1973, this family operation has been offering a variety of services including kennels, horse boarding, pet and livestock feed sales, and registered Angus cattle. The award was accepted by Nancy and Ray Dart.
Jim Herzog announced Les Jordan, Jr. as this year's Volunteer of the Year for his leadership on many committees that have worked to promote and improve the quality of life in Smethport and for his dedication to promoting our community and helping countless others "Discover Smethport" through his exceptional photography displayed on Facebook.
Linda Lake presented the Community Service Organization of the Year award to the Memorial Recreation Center, whose board operates, maintains and staffs the community pool on W. Willow Street. They not only do all this on a voluntary basis, but raise the funds for the pool's daily upkeep, utilities and phone service. The award was accepted by Barbara Ball, Marcie Raydo and Brenda Young. This Memorial Day is the 60th anniversary of the pool facility, which was originally dedicated to local veterans.
Outgoing Chamber president Jovanna Porter introduced the new Board: Vicki Dunkle (Corner Bistro & Pizza Company), Barbara Gee (Sena Kean Manor), Michael Montecalvo (Northwest Savings Bank), Nathan Muller (Ascent Solutions), and Phil Smith.
Special thanks to Gary Herzog and his staff at the Court of Angels for the lavish buffet, Linda Muller of Smethport Web Services for handling the dinner logistics and designing the table decorations, and Christie and Jeff Andrulonis of Colonial Media + Entertainment for providing the sound system. Raffle items were donated by Judy Leasure, Smethport Chamber, Colonial Media + Entertainment, Smethport Web Services, and Ascent Solutions.
And a big thank you to the event photographer — Les Jordan, Jr.