Smethport Web — by Annie Wolfe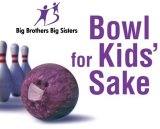 The Guidance Center's Big Brothers Big Sisters Program would like to thank the businesses and individuals who participated and donated in Bowl For Kids' Sake 2015. Bowl For Kids' Sake is our largest annual fundraiser that took place on March 28, 2015 at Byllye Lanes in Bradford. Funds raised will support ongoing professional match support for one on one matches between adult volunteers and youth in need of an additional positive adult role model throughout McKean County.
A total of 224 bowlers attended this year's Bowl for Kids Sake event. With individual bowler donations and business sponsorships, Bowl For Kids' Sake raised a total gross amount of $19,215 for McKean County mentoring services. Additional in-kind donations including prizes, food, banners and other supplies, valued at approximately $3,930, supported the event's success. Individual bowlers brought in $12,635 while business sponsors donated an additional $6,580.
Each individual bowler was asked to raise a minimum of $40. Staff and children involved in the Independent Living program of the McKean County Department of Human Services raised nearly $1,860 of the total amount raised by bowlers. The individual bowlers that raised the most money were 1st place, Nittany Queen B's, team captain Kristi Winterkorn who raised $946, 2nd place went to Matt Johnson who raised $625, and Brenda Bloomgren took 3rd raising $602. Those bowlers raising the most money received prize packages containing Kwik Fill gas cards, restaurant and grocery gift certificates, and Wal-Mart gift cards.
Every participant enjoyed two bowling games, shoe rental, food, and tons of prize giveaways. Magician Jamie Petrush entertained bowlers at the 2 p.m. flight. Also at this flight Brian Wolfgang and Lance Schimp, who are two of our returning bowlers from the Kane area, surprised the crowd by showing up dressed as Darth Vader and a Storm Trooper. They played a trivia game with the bowlers, posed for pictures, and passed out prizes. Radio personality Megan Simms from Bob 103.9 performed a live remote broadcast at the event and brought the Big Bob mascot to entertain the crowd.
This year's event sponsors included three time Champion Sponsor Kane Eagles Club. Perfect game sponsors included WESB, University of Pittsburgh at Bradford, Raymond E. Learn Esquire, the Kane Vets Club and Subway of Bradford and Kane, who donated food for the 2 p.m. flight. Strike sponsors included Straub Brewery, Asel Enterprises, the Smethport VFW, Bradford Eagles and Aerie, United Refining Co. of PA/Kwik Fill and Domino's Pizza who donated pizza for the 8 p.m. flight.
Spare sponsors included the Bradford Township Lions Club, Bradford Vets Club, Burns and Burns Associates, Byllye Lanes, Carl E. Swanson and Sons, Close's Lumber, Cutco Ka-Bar Visitors Center, Fraternal Order Eagles Auxiliary #2432 Bradford, Hagg's Tax Team, Hamlin Bank and Trust, Kane Lions Club, Kids for Cancer, KOS, McDonalds, Northwest Savings Bank, Ott and McHenry Pharmacy, Pine Haven Veterinary Clinic, the Smethport Rotary Club, Sena Kean Manor, W. E. Swanson Agency, Zippo/Case Museum, and Zook Motors.
Thank you to all of these businesses, the additional general donors, and the many more businesses that donated prizes for supporting Bowl For Kids' Sake and the Guidance Center's Big Brothers Big Sisters program.
If you or your organization is interested learning how to participate in or donate to Big Brothers Big Sisters of McKeanCounty, please call Big Brothers Big Sisters toll-free at 1.877.776.1636 or locally at 814-887-5591.
Big Brothers Big Sisters is an evidence-based mentoring program shown to prevent substance abuse and anti-social behavior among youth. Served youth show significant improvements in school attendance, academic performance, involvement with positive school and community activities, self-esteem, interpersonal and problem solving skills, and future planning and goal setting. Served youth are also much more likely to develop friendships with positive peers and have improved relationships with family members. In McKean County, Big Brothers Big Sisters currently serves 28 matches with 56 children on the waiting list for a mentor. More information about the program is available on our website at www.bbbs-jem.org.