Smethport Web — by Nathan Muller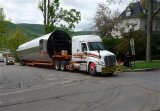 Smethport has grown accustomed to big rigs passing over Main Street, especially since the oil and natural gas boom in recent years.
Occasionally, these behemoths have knocked street lights out of commission, overturned utility poles and signs, and mangled countless tree limbs along their crawl to destinations far away.
The right angle turn from Marvin to Main Street has proven to be a formidable challenge for most truckers, with some achieving success only after several trial-and-error attempts. Tired of the long wait, vehicles in both directions usually give up and head for the side streets.
This week, an unusually long flatbed approached the Main Street from Marvin Street hauling a stainless steel silo of titanic size headed for Mainesburg. Instead of hoping for the best, the truck driver and escort crew pulled over well ahead of the turn and got out to plan the approach.
The plan included using the flatbed's hydraulic lifters to clear the slope on Marvin Street on the way to Main Street. The degree of difficulty was such that Smethport Police Chief Pat Warnick was on the scene in case things didn't go as planned.
After everyone returned to their vehicles, the flatbed moved according to plan, making a slow but perfect turn onto Main Street, leaving onlookers quite impressed with the driver's skill.
Click on the image above to view the slideshow documenting this outstanding performance.