Smethport Web — by Nathan Muller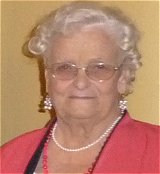 Despite its small population, Smethport is blessed with a number of Service Organizations that would be the envy of many larger communities.
One Community Service Organization stands out as being a long standing Chamber member as well as a bustling hive of activity − the Smethport Senior Center, which is run entirely with volunteers.
The Smethport Area Chamber of Commerce honored the accomplishments of the Smethport Senior Center during its 10th Annual Business Dinner held last night at American Legion Bucktail Post 138. Barb Ness accepted the award on behalf of all the volunteers who generously donate their time to making our community a better place for all.
In attendance at the dinner was Bill Orzechowski, executive director of the Office of Human Services in Ridgeway.
In cooperation with the Office of Human Services, the Senior Center offers opportunities for social interaction, education, recreation, information and referral, creative arts, health programs, Medicare counseling, some transportation, and weekly entertainment.
In addition, the Center promotes better health and well being for older adults with a nutritious daily lunch program that includes home delivered meals.
The center also serves as the home of the Chamber of Commerce and actively greets travelers at the Smethport Visitor's Center.