Smethport Web — by Nathan Muller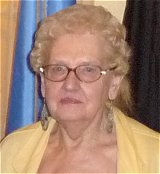 At last night's 10th Annual Business Dinner of the Smethport Area Chamber of Commerce, held at American Legion Bucktail Post 138, Patricia Mayer was honored with the "Volunteer of the Year – 2010" award.
Patricia is a Smethport resident who distributes her time across several organizations in the cause of serving others.
She serves through the Red Cross to provide interested groups with CPR training, most recently at the Senior Center in Smethport.
She mans the Emergency Medical Technician station at the McKean County Fair.
She volunteers at the Pink Elephant in Smethport several days each week, helping to provide area families with clean 'recycled' clothing.
She is a volunteer in the Retired Senior Volunteer Program, and also serves on the RSVP advisory council, assisting the program's director with supporting and guiding over 400 RSVP volunteers in McKean County.
She has put in 1,696 hours of documented service as a volunteer in 2010 – that's 70 days out of 365 days. Put another way: she spends a solid 20% of her time in "volunteer mode".
This is exceptional performance by any standard, and the reason the Smethport Area Chamber of Commerce has selected her as its "Volunteer of the Year".
Marcia Avey, McKean County RSVP Director, could not be at the Chamber event, but wrote this letter, which was read to dinner attendees:
"Congratulations to all those being honored tonight! I am sorry I couldn't be with you, but wanted to extend my best wishes and congratulations to the Smethport Senior Center and especially to Pat Mayer, an extraordinary volunteer and member of the McKean County RSVP program.
"Pat is one of those volunteers who is always looking for ways to help others and make her community a better place. She does so without fanfare and does not seek reward or recognition for her efforts. That is precisely why it is so fitting that she is being honored here tonight.
"Pat, thank you for all you do, not only for RSVP, but for your church, your community and your friends. You are a gem, and we are all blessed to have you in our midst!"