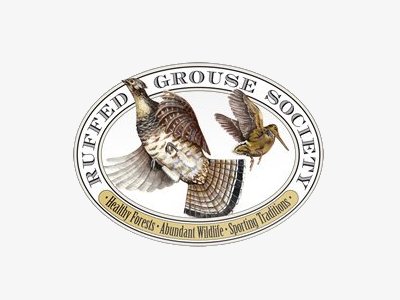 Smethport Web – by Mary Hosmer
Seneca Resources, the exploration and production segment of National Fuel Gas Company, has donated to the Ruffed Grouse Society to support the $10,000 Tagged Trout Tournament on April 13, a region-wide event located within the community of Smethport. This event, organized by McKean County E-Sales, will run from 8:00 a.m. of opening day of trout season, Saturday, 4/13, thru noon of Saturday, 4/20.
"We are very grateful for the support we have received from Seneca Resources," said Brenda Walker of Clermont, Committee Leader for the Ruffed Grouse Society, Allegheny Chapter. "This gift will allow us to fulfill the Ruffed Grouse Society's mission of healthy forests, sporting traditions, and abundant wildlife. We will be working on habitat with the larger wood-producing companies, teaching women to hunt, and helping new hunters of all ages learn how to hunt upland game birds with the proceeds from the Tagged Trout Tournament. A real upbeat consequence for us folks living up here is that we are providing a regional event within one of our communities that anybody can participate in if they choose to do so."
The gift from Seneca Resources came in two initiatives. The second donation came from Highland Field Services, LLC, a subsidiary of Seneca Resources Corporation that uses an innovative strategy for managing shale gas wastewater and recycling solutions to upstream and midstream operators by creating incremental value from traditional waste streams. Highland manages the operational and economic needs of the energy sector in an environmentally responsible manner, advanced recycling and reuse rather than disposal. Additional information about Highland Field Services and Seneca Resources Company, LLC, is available at http://www.nationalfuelgas.com.
Other regional businesses and organizations have also stepped up to support this community event:
Crescent Beer Distributor, Inc., Mt. Jewett, McKean County
Habitat for Wildlife, Johnsonburg, Elk County
Mary Hosmer, Ridgway, Elk County
Hamlin Bank, Smethport, McKean County
The HUB, Smethport, McKean County
Lucy's Coffee, Tea, and Gifts, Ridgway, Elk County
Mountain Laurel Federal Credit Union, Kane, McKean County
Myrna's Mercantile, Crosby, McKean County
NAPA, Ridgway, Elk County
Nystrom's Garage, Kane, McKean County
Olson & Tenglund (NAPA), Smethport, McKean County
Reiter's Meat Provisions, Wilcox, Elk County
Save-A-Lot and Shop 'N Save Grocery Stores of McKean County
Smethport Auto Wash, Smethport, McKean County
Smethport Diner, Smethport, McKean County
Top Outdoor Products, Renovo, Clinton County
The $10,000 Tagged Trout Tournament starts at 8:00 a.m. and you must have registered at McKean County E-Sales in advance, and in person, if you plan on participating in this unique adventure of trying to catch a tagged trout worth $10,000. McKean County E-Sales, is at 311 Main Street, Smethport, Pa. 16749.
Anybody or any other organization that wants to help with a financial donation or a prize for a tagged trout should contact Brenda Walker at brendawalker@hughes.net or go to the McKean County E-Sales Facebook page for more information as the event nears. All donors of funds or any prizes will receive verification from the Ruffed Grouse Society, a 501-c-3 organization for tax purposes, recognition in news releases, and recognition at the event.
The Ruffed Grouse Society was founded in 1961 to promote and increase awareness of young forest management and to maintain suitable habitat that supports healthy populations of ruffed grouse, woodcock, deer and many songbird species that depend on forest diversity to survive and prosper.